The new Apple TV Plus series explores extraordinary residences, like a tiny apartment that can accommodate any room, a house inside a greenhouse, and 3D-printed home that was built in 24 hours.
What makes a house a home? For many people, a home is more than walls and a roof; it's a place where they feel an emotional connection and a sense of belonging. Home is a place that tells their story. The Apple TV Plus docuseries "Home" explores one-of-a-kind, innovative homes that challenge conventional concepts of living space and are as unique as the families that live in them. Here, we highlight some of the most astonishing and unusual homes from the series.
A Glass Ceiling
In Swedish, the word "hem" refers to a home in general, while "hemma" refers to a person's individual home, says engineer Anders Solvarm. For Solvarm and his family, their home, dubbed "Naturhus"—a traditional 18th century log cabin completely encased inside a glass greenhouse in the Swedish countryside—represents "hemma." Inspired by the work of famed Swedish architect Bengt Warne, Solvarm built much of the house by hand with help from his father and brother-in-law. The greenhouse creates a warm "microclimate" around the log cabin, allowing the Solvarms to grow fruits, vegetables and flowers in their garden—even when there's snow on the ground outside. In addition, the Solvarms have found Naturhus to be a healing refuge for their son, Jonathan, who was diagnosed with autism when he was 4 years old. "Our house is giving us hope," says Solvarm.
A Deconstructed House for All
Artist Theaster Gates recalls that as a child, he could see neighborhoods change for the better over time as he was bused from his home on the West Side of Chicago to his school on the North Side. As an adult, he earned degrees in urban planning and art, and he set out on an ambitious project to create an "exploded" house in the Greater Grand Crossing neighborhood on Chicago's South Side. The area is known for high crime and low property values, and Gates wanted to build places where residents could meet, talk, read, share a meal, watch movies, listen to music and experience art—all within walking distance of their own homes. Gates started with the Listening House (music), which was soon followed by the Archive House (a library), The Black Cinema House (Gates' own residence and a public movie theater), the Stony Island Arts Bank (art exhibition), the Dorchester Art + Housing Collaborative (art exhibition), and the Currency Exchange Café (coffee shop). By investing in a disadvantaged neighborhood and its artistic life, Gates found a sense of belonging that he never anticipated: "It's allowed me to feel safe, free and home."
The Ultimate Treehouse
You can "grow" your own house, says Elora Hardy, creative director at architectural firm IBUKU in Bali, Indonesia. All you need is sunlight, water, and bamboo. Hardy was introduced to the resilient, sustainable material when she left her coveted position with top designer Donna Karan in New York and moved to Bali to help her father construct a school out of bamboo. Though Hardy had no formal training in architecture or building design, she fell in love with the project and ended up founding a design company that works almost exclusively with bamboo—which is actually a type of grass and not wood. One of her first major projects was the creation of her home, Sharma Springs. The curving, lyrical structure mimics the leaves and branches that surround it in the forest, and nearly everything in her home—even the door handles, light switches, and clothes hangers—is made of bamboo. Hardy says Sharma Springs keeps her and her family close to nature and reminds them that anything they imagine can be made real. "If you can build castles out of grass," says Hardy, "what else can you do?"
The Transformer
Architect Gary Chang's apartment is only 344 square feet, but he manages to make it seem infinitely large. In Hong Kong, where Chang was born and raised, such tiny living spaces are common. Chang grew up in the apartment, which once housed six members of his family and a boarder. As an adult, Chang was able to purchase the apartment and turn it into his own architectural laboratory, the "Domestic Transformer." Inspired by local vendors who set up their storefronts and wares by day and then pack them away at night, Chang transforms the entire apartment into a dizzying array of configurations. The single open room becomes a living room, a kitchen, an office, a bedroom, a dining room, a laundry, a cinema, or a spa. Chang uses walls that slide on tracks and furniture that swings on pivots to change setups. According to Chang, the possibilities are limited only by his imagination. "I have chosen to make my home, my life, a radical experiment in transformation," he says.
A 3D-Printed House of Hope
As of 2021, the UN estimates that 1.6 billion people worldwide live in inadequate housing. Until recently, Angel and Isela Javier were among them. The young couple were raising their two daughters in a makeshift shelter made of metal shingles and blankets in one of the poorest towns in Tabasco, Mexico. Though the shelter frequently flooded, the family had no safe running water and had to purchase bottled water for all household needs—an expense that became increasingly burdensome when Angel Javier lost his construction job. "A home for me would be everything," he says through a translator.
Housing nonprofits New Story and ÉCHALE joined forces with construction technology company ICON to build the world's first 3D-printed community in Tabasco. Fifty families, including the Javiers, were chosen to live in new 3D-printed homes(link is external) created by a massive 3D printer that was shipped to Mexico from Texas. The homes are made of extruded concrete mortar, cost $7,000 each to build, and can be printed in 24 hours. The families were able to move into the homes in November. "When they walk in, you can see hope come back into their faces and hearts," says New Story COO Alexandria Lafci. "It's the privilege of a lifetime to do that for so many families."
There are many ways to discover tales of San Diego's past, but a historic treasure lies beneath the sands of Coronado Shores Beach. There, you might see the remains of the SS Monte Carlo.
This sunken ship has become part of Coronado's history, and local lore continues each time it's visible. Let's dive into the story of the shipwreck + local legend.
The early journey
The concrete ship — originally named SS McKittrick — was built in 1921 in North Carolina, intended to be part of President Woodrow Wilson's emergency fleet during World War I. By the time the war ended, the vessel was mid-construction. It was completed and then sold as an oil tanker.
The history gets a bit dicey in 1932 when it was sold again, renamed the SS Monte Carlo — and was believed to be operated by the mob. This was toward the end of Prohibition, and owners moved the ship to California to capitalize on crowds gathering for the 1932 Olympics held in Los Angeles by offering unregulated fun in international waters off the coast.
What went down?
In the mid-1930s, the 300-ft ship was the largest member of "Gambling Ship Row" — a fleet ranging from LA to San Diego — used for gambling, drinking, and other legally questionable activities. It anchored 3 miles off the shore of Coronado in 1936, and closed for the winter after a gala on Nov. 1, 1936.
On New Year's Day 1937, the chains anchoring the ship broke during a strong storm that would lead to it sinking. But it wasn't a titanic disaster— only two caretakers were on board, and the US Coast Guard rescued both. No one claimed ownership of the boat and its illegal activities, leaving it to break apart + become shipwrecked in Coronado.
Can you see the wreckage?
This piece of San Diego history is sometimes visible, making it a rare shipwreck you can actually visit. You might catch a glimpse during low tides — particularly in winter — while visiting Coronado Shores Beach. Storms may also increase exposure, like a notable El Niño in 2016.
There are rumors of buried treasure on this ship, but don't go looking. In 2012 it was reported that a Coronado local found $410,000 in coins, but the real discovery: It was an April Fool's prank.
Longing for a trip to the ocean as the temperature rises? We are right there with you.
But what if we told you that you could have your very own private body of saltwater to cool off in this summer—no matter what landlocked corner you find yourself in?
Saltwater pools are the latest home and garden trend everyone is talking about—and with good reason.
Saltwater pools are gentler on the skin and more cost-effective than chlorinated pools, so it's easy to see why pool owners across the country are considering making the switch. So what exactly is a saltwater pool, and how can you get one? Keep reading to find out.
What's a saltwater pool?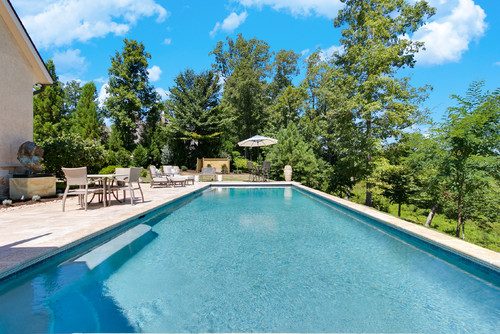 Photo by Rock Creek Innovations
Saltwater pools are pretty much what they sound like: pools that rely on salt (rather than chlorine) for maintaining ideal swimming conditions.
"The structure of the pool itself is the same; the only difference is in the pool chemistry and the equipment needed to maintain that chemistry," says Joe Raboine, director of residential hardscapes at Belgard. "A homeowner can convert any type of pool to a saltwater pool, which converts salt to chlorine with a computerized salt generator that also monitors chlorine levels."
Unlike regular pools that require you to add chlorine tablets every week, saltwater pools simply need their pH and salt levels monitored and salt replaced only when it gets low. As you can imagine, this means a lot less time and money needed for upkeep compared with a regular chlorinated pool.
"The annual maintenance costs for running a saltwater pool will be much less, about $100 per year versus $1,000 for chlorine and chemicals," says Raboine.
What other pros and cons might you expect from a saltwater pool? We'll dive into that below.
Cons of saltwater pools
The expense: While regular maintenance costs for saltwater pools are lower, you can expect to pay big bucks upfront to install your private salty pool.
A new saltwater pool will cost homeowners an average of $25,000, which is $10,000 less than the average cost of installing an in-ground chlorinated pool. Keep in mind that many homeowners convert existing chlorinated pools into saltwater pools, which requires a significant upfront expense.
"The cost of converting a chlorine pool to saltwater will range around $1,700 to $2,500 and will require a replacement every five to seven years," says Stewart Vernon, founder of America's Swimming Pool Co.
No DIY option:
Before you start Googling "DIY chlorine pool," hear this: You will want to make that investment for the professional pool installation. The reason? You'll need to have something called a salt chlorinator system installed. And you likely also need some professional advice regarding the new liner and other external fixtures of your pool.
"If your pool's finished with a plaster surface, the saltwater may corrode it faster and require you to refinish your pool more often," says Vernon. "Saltwater may also corrode any metal pool components faster."
Pros of saltwater pools
Less stink: Suppose you can get past the initial expense of installation. In that case, you'll find yourself pleasantly surprised by several aspects of saltwater pool ownership—not the least of which is that saltwater pools are much less odiferous.
"There's significantly less odor in a saltwater pool," says Vernon. "A byproduct of chlorine called chloramines causes chlorinated pools to have that distinct chemical odor. And these chloramines are greatly reduced when converted to a saltwater pool."
It's better for your skin: Saltwater pools are gentler on your body.
"The main advantage of a saltwater pool is that it's less harsh on your skin, eyes, and hair and requires less work to balance the chemistry in the water," says Raboine. "You can even open your eyes underwater, and it doesn't hurt because the salt levels are very close to the salinity of human tears."
Source: Realtor.com, Larissa Runkle
NAHB's tireless efforts calling on the Biden administration to eliminate — or at the very least reduce — duties on Canadian lumber shipments into the United States has taken a step in the right direction, with the Department of Commerce moving to cut tariffs by more than half and Canada seeking a new legal solution that would completely eliminate the tariffs.
The Department of Commerce has issued its final third administrative review to reduce duties on shipments of Canadian lumber into the United States by more than half from 17.99% to 8.59%. This is even lower than the initial third administrative review that would have set the tariffs at 11.64%.
The new 8.59% lumber tariff is expected to take effect later this month. Although lower tariffs could help to ease extreme price swings in the lumber market that have added $14,300 to the price of a typical new home since the early stages of the pandemic in the spring of 2020, the fact remains that the Commerce action does not adequately address the issues surrounding Canadian lumber — that all parties must come to the table to negotiate a long-term solution that puts an end to the tariffs.
That is the message that NAHB continues to send to the Biden administration. At the same time, NAHB supports Canada's efforts to address legal issues surrounding these unfair tariffs. Canada reacted to the news out of the Commerce Department by requesting a dispute settlement through the U.S.-Mexico-Canada trade agreement (USMCA).
"Canada is disappointed that the United States continues to impose unwarranted and unfair duties on Canadian softwood lumber," said International Trade Minister Mary Ng. "While the duty rates will decrease from the current levels for the majority of exporters, the only truly fair outcome would be for the United States to cease applying baseless duties to Canadian softwood lumber."
"These duties have caused unjustified harm to the Canadian industry and its workers," Ng added. "They also amount to a tax on U.S. consumers, exacerbating housing unaffordability at a time of increased supply challenges and inflationary pressures."
Ng said that Canada intends to challenge the final results of the third administrative reviews, including through launching a dispute settlement process under Chapter 10 of the USMCA.
Interior designers share the neutral jute, ceramic, and linen items you need to translate this viral style in your own space.
In March 2022, Lex Nicoleta went viral on TikTok when she coined the "coastal grandmother aesthetic"—a specific style of neutral, earthy décor often seen in the homes of Nancy Meyers' romantic-comedy heroines. "Characteristics of a coastal grandmother's home include open kitchens, slipcovered sofas, white accents, fresh flowers, linen curtains, coastal art, rustic textiles, bowls of lemons, and large windows that allow natural light to pour in," says Nicoleta. "It's impeccably clean, yet warm and inviting—somewhere you instantly feel at home." And you don't have to be a grandmother who lives on the coast to channel this design style—you just need to buy the right furniture.
Mastering the Coastal Grandmother Aesthetic
Before you make a single purchase, interior designer Shay Holland suggests honing in on this imagined character's lifestyle—what would her home look like?
Coastal Colors
"Think light, breezy, nature-inspired colors," says Holland, noting that whites, blues, ivory, taupes, and muted greens are colors you'd associate with water, seagulls, sand, and dunes.
Simple Patterns, Finishes, and Fabrics
Since the coastal grandmother lifestyle "communicates ease, avoid jarring patterns, super glossy finishes, and formal fabrics, like silk, that are too delicate to curl up on with coffee and a book," says Holland, who recommends pieces in straightforward cotton and linen, instead. Speaking of coffee and novels: Strategically-placed mugs and stacks of books are part of the coastal grandmother aesthetic, too.
Natural Fibers and Textures
The "coastal" aspect of this design style relies heavily on textured natural fibers and materials. "Think rope, driftwood, and jute," says Jade Joyner, the co-founder and principal designer of Metal + Petal. "It's a clean and classic look." Joyner also recommends playing with "a mix of wood tones that lean from natural to black"—no shiny lacquers or gold finishes needed. "It's luxe in the most subtle way," she explains. "It's high-end design, meets cottage-core, meets a nod to nautical."
What to Look for When Shopping for Furniture
Both smaller accents and larger pieces of furniture can help you translate this design aesthetic in your home. What you choose to incorporate mostly depends on your budget and the space you have available.
Should you prefer to work with smaller details, Holland suggests placing jute or wool rugs on your floors and swapping in linen or cotton duvets or comforters in bedrooms; doing so will anchor (pun, intended!) both areas. Then, accessorize with handmade pottery, rattan items, baskets, books, and potted plants in vintage blue-and-white vessels (think Dutch delft or ginger jars) and terra-cotta pots.
If you feel committed to this style and want to invest in larger-scale furniture, Holland says to shop for items with well-worn finishes; pieces should be inspired by nature, which is why she suggests sticking to materials like natural wood and rattan. Upholstery in cozy, soft palettes (think cream or taupe) "fits perfectly into the aesthetic," Holland adds.
The Best Coastal Grandmother Home Essentials
While these tips should help you identify pieces that fall into this design category, we went a step further and asked interior designers to share the essential home items they recommend for achieving the coastal grandmother aesthetic.
CREDIT: COURTESY OF CRATE & BARREL
Crate & Barrel "Addison" White Flange Slipcovered Dining Chair
"Layering is the most important element to communicate this design style," says Anastasia Harrison, the interior architect behind AHD & Co. This makes slipcovered furniture "a great foundation." Nicoleta agrees; she considers slipcovered furniture to be one of the most high-impact purchases you can make to achieve the coastal grandmother aesthetic.
Harrison recommends this elegant dining chair, which features a full-length white coverlet that gives the furniture a relaxed, deconstructed silhouette.
CREDIT: COURTESY OF AMAZON
Topfinel Buffalo Check Plaid Throw Pillow
While most patterns affiliated with the coastal grandmother aesthetic are subtle, gingham is the exception: The upbeat, but traditional print is fair game. So, consider stocking up on a series of gingham throw pillows in a mix of checked styles; we love this gray-green, earthy set.
CREDIT: COURTESY OF AMAZON
Martha Stewart "Isla" Accent Chair
Martha designed a furniture line that speaks to this relaxed, laid-back style. We love this earth-toned chair, complete with cane wings and a subtle striped cushion—it's refined and elegant, which means its perfect for your coastal grandmother-inspired home.
CREDIT: COURTESY OF PARACHUTE HOME
Parachute Home "Nomad" Lumbar Pillow Cover
Trying to achieve the coastal grandmother look means "naturally leaning towards a laid-back, pared down aesthetic," Holland says. A large pillow in a neutral colorway suits this sentiment perfectly; Holland recommends this handcrafted lumbar piece, which will bring relaxed texture to your bed.
CREDIT: COURTESY OF GOODIES
Goodies Ribbed Water Cup
These ribbed ceramic mugs in an ivory shade have the texture and tone that is key to the coastal grandmother style, says Holland. Even better—this cup set clocks in under $20.
CREDIT: COURTESY OF HD BUTTERCUP
HD Buttercup Luna Tall Dresser in Natural Mango
You're not a coastal grandmother if you don't have pieces made from rattan or natural wood in your home. We're partial to this neutral dresser: With its woven cane drawers, straight lines, and earthy brown color, this piece provides storage while easily blending with the rest of your neutral décor.
CREDIT: COURTESY OF WAYFAIR
Birch Lane Krauss 1 – Light Dimmable Bath Sconce
"I recommend library lights either as floor lamps or as sconces," Joyner says. Even better if you can find iterations in coastal grandmother-approved colorways—which is where this light blue piece comes in. With its subtly nautical and simple, almost utilitarian design, this sconce brings breezy minimalism to a bathroom or small entryway.
CREDIT: COURTESY OF WEST ELM
West Elm Mini Pebble Wool Jute Rug
Natural fiber isn't only a key component of the coastal grandma aesthetic—it can transform other aspects of your space. "Add a natural fiber rug underneath your area rugs to elevate the room," Joyner says. She recommends this handcrafted jute rug from West Elm for its durability and bobble texture.
CREDIT: COURTESY OF WAYFAIR
Sand and Stable Quenton 24" Tall Drum End Table
Bring the natural world indoors with a unique end table. A mosaic of broken coconut shells arranged on distressed wood provides texture and a perfect spot to place magazines, cups, and vases.
CREDIT: COURTESY OF AMAZON
JONATHAN Y Set of 2 Cottage Table Lamps
These blue-and-white lamps are the kinds of antique-inspired pieces that would fit into a cottage as nicely as they'd fit into a coastal grandmother's living room. What's more, they come with energy-saving LED bulbs, so they can shine brighter for longer.
CREDIT: COURTESY OF WAYFAIR
Winston Porter Filipek 22" Tall End Table
Remember: Embracing the coastal grandma aesthetic means avoiding glossy finishes and shiny lacquer. This rustic wooden end table, inspired by the simplicity of sawhorses, has the natural look you need. Plus, the shelf beneath the main tabletop provides ample room for stacks of books—another key aspect of coastal grandma décor.
CREDIT: COURTESY OF WAYFAIR
Sand and Stable Hermosillo 19.5" Tall Solid Wood Pedestal End Table
Place flower-filled vases, cups of coffee, and your favorite reads on a sustainably sourced munggur wood side table. The exposed ends of branches spotlight the natural beauty of the table materials, creating a modern, but rustic feel that feels distinctly coastal.
CREDIT: COURTESY OF AMAZON
Sullivans Ceramic Vase Set
These distressed ceramic vases are perfect homes for freshly-cut flowers purchased at the farmer's market. Since they come in a set of three, use them to tie a room together by placing them in multiple spots.
CREDIT: COURTESY OF WEST ELM
West Elm Classic Rattan Counter & Bar Stools
As a coastal grandmother, you can never have enough rattan or natural wood. This barstool is constructed with sustainably sourced oak and natural cane and features a comfortable cream cushion and adjustable legs.
CREDIT: COURTESY OF POTTERY BARN
Pottery Barn "Ainsley" Toile Pillow Cover
This cozy throw pillow incorporates that signature coastal blue-and-ivory color palette, and is adorned with an antique-inspired illustration in the chinoiserie style.
Source: MarthaStewart.com, Rachel Sanoff
Whether you're selling or purchasing a home, you're likely to encounter a home appraisal contingency at some point. While there's no doubt the process can be nerve wracking, knowing what to expect from a home appraisal can put those nerves at ease.
We're here to break down the what, why and how of home appraisals and share some tips to help your home come out on top.
First things first, what IS a home appraisal?
Great question! A home appraisal is the process by which a licensed appraiser conducts a thorough inspection of a property to assess its true worth (which isn't always the same as the listing price). The appraiser will then compile all of their findings into a report and generate the home's appraised value.
If a buyer is financing their purchase with a loan, the lender will typically handle ordering the appraisal. This is done to insure that the lender is not over-lending or lending more money than the property is worth. As such, some lenders may actually require buyers to include an appraisal contingency in their offers.
Why should you care about home appraisals as a buyer?
Lenders generally base the amount of money they loan you on the appraised value of a property, not the listing price. If you are financing your purchase with a loan, your lender might require an appraisal contingency to insure that your loan doesn't exceed the value of the property. In these instances, the lender will typically handle coordinating the appraisal.
If the home you've made an offer on is appraised at an amount lower than your offer price, you have a few options:
Make up the difference in price. As mentioned before, lenders use the appraised value of a home to determine your loan amount. If the property is appraised at a lower value, your lender will decrease your loan amount. If you want to proceed with the purchase, you'll need to increase your down payment to cover the difference between your new loan amount and the agreed upon price.
Renegotiate the price with the seller. If you really want the home, but do not want the increased financial responsibility associated with a lower appraisal value, you can always ask the seller to agree to a lower purchase price. This can be a long shot in a competitive market where sellers receive multiple offers and bidding wars are common.
Back out of the deal if you have an appraisal contingency. If the seller is unwilling to renegotiate the purchase price and you don't want to pay the difference out of pocket, an appraisal contingency allows you to cancel the purchase agreement. Additionally, it allows you to recoup your EMD (earnest money deposit) as long as you've met the terms and deadlines stipulated in your offer.
How is a home appraised?
During a home appraisal, a licensed appraiser conducts a thorough inspection of the property.
The appraiser will consider all factors that could affect the property's value. These factors include the condition of the property, any upgrades or additions made to the property, the size of the lot and "comps" or recently sold properties of comparable size and condition in the same market.
How can sellers ensure they get the maximum appraisal value for their home?
There are several things sellers can do to increase their home's value.
1. Vet the competition
Look at the sales prices for homes in your area that are similar in square footage, layout, upgrades, and condition to your own. It's best to go back a maximum of 6 months or look at homes that were sold at the same time of year you're looking to sell because markets tend to experience seasonal ebbs and flows.
You can access this info yourself in public property records and online.
2. Finish minor fixes
Now is the time to break out that to-do list of projects that every homeowner has. Oil the hinges on that squeaky door, put an end to the running toilet, tweak that finicky garbage disposal.
Though they may seem inconsequential to you, to an appraiser, they can downgrade the overall condition of your home.
We suggest taking a tour around your home to survey for those small fixes that you can handle.
3. Crank up the curb appeal
The exterior of your home also plays a role in determining its overall value. If your home were a book, its curb appeal would be its cover, and buyers and appraisers alike WILL be judging it. That's because the condition of a home's exterior is often seen as an indication of the condition of its interior.
Not sure where to start? You could try resolving smaller issues like loose shingles or clogged gutters. Ensuring that any pathways into your home are clear and well-lit is another simple yet effective task to complete.
Adding charming decorative elements to your doorway, and, of course, making sure that your lawn is properly maintained are also great ways to make your home more visually appealing.
4. Consider cosmetic upgrades
Upgrading your home for an appraisal is always a gamble. If you invest a lot of money into a full remodel, there's a chance you won't recoup your investment in added value. That said, smaller cosmetic upgrades are usually worth the effort.
Things like adding a fresh coat of paint, replacing dated bathroom vanities, and switching to newer fixtures tend to require lower costs and less labor, yet they can have a big impact.
5. Document your improvements
You'll want to keep track of any improvements you make to your home.
Your appraiser may not be very familiar with the homes in your neighborhood, so this is your chance to point out any added value in your property. Draw up a list of any upgrades you've made to the property.
If you have paperwork on the upgrades – like contractor invoices, for example – be sure to include copies with your list. Doing so helps to add validity to your assertions and will help the contractor properly assess the quality of work that was performed.
Note: Always obtain proper permitting from your city for any major additions to your home. Unpermitted work can actually decrease the value of your home as resolving unpermitted work can be expensive.
6. Clean, clean, clean
It may sound like a no brainer, but your home should be spotless for the appraisal.
The fact is that appraisals are a little bit subjective, and a clean home will usually rank much better in terms of overall condition than one that the inspector perceives as dirty. Additionally, not cleaning your home frequently increases the likelihood of pests and rodents. This is something an appraiser will consider.
7. Give the appraiser space
Once the appraiser arrives, it's important to give him or her space to do the job.
It can be tempting to guide them or point out all your improvements, but we'd advise against it. Appraisers do this every day. They know what to look for. If you become their shadow, you run the risk of annoying them or, accidentally revealing too much information, which can hinder more than it helps.
Be polite, be cordial, and make yourself available to answer any questions they may have at the end of their tour.

Takeaways
While avoiding an appraisal altogether might not be an option for those financing the purchase of their home, there are ways you can positively influence the outcome.
Source: OpenDoor, Heidi Knight
WASHINGTON (July 18, 2022) – Foreign buyers purchased $59 billion worth of U.S. existing homes from April 2021 through March 2022, an 8.5% increase from the previous 12-month period and stopping a three-year skid in foreign investment in U.S. residential real estate, according to a new report from the National Association of REALTORS®. Foreign buyers purchased 98,600 properties, down 7.9% from the prior year and the fewest number of homes bought since 2009, when NAR began tracking this data. Overall in the U.S., existing-home sales totaled 6.12 million in 2021 – the highest annual level since 2006.
"For the second year in a row, restrictions and general caution tied to international travel during the pandemic slowed home buying by wealthier foreign buyers," said NAR Chief Economist Lawrence Yun. "Even so, domestic home buying demand was exceptional and, therefore, boosted home sales nationally."
NAR's 2022 Profile of International Transactions in U.S. Residential Real Estate surveyed members about transactions with international clients who purchased and sold U.S. residential property from April 2021 through March 2022. Foreign buyers who resided in the U.S. as recent immigrants or who were holding visas that allowed them to live in the U.S. purchased $34.1 billion worth of U.S. existing homes, a 5.2% increase from the prior year and representing 58% of the dollar volume of purchases. Foreign buyers who lived abroad purchased $24.9 billion worth of existing homes, up 13.2% from the 12 months prior and accounting for 42% of the dollar volume. International buyers accounted for 2.6% of the $2.3 trillion in existing-home sales during that time period.
The average ($598,200) and median ($366,100) existing-home sales prices among international buyers were the highest ever recorded by NAR – and 17.7% and 4.1% higher, respectively, than the previous year. The increase in foreign buyer prices partly reflects the increase in U.S. home prices, as the monthly average existing-home sales price rose to $374,300, up 10% from the prior period. At just over $1 million, Chinese buyers had the highest average purchase price, and nearly a third – 31% – purchased property in California.
"Affordability challenges along with the inability to find the right property were the top reasons given for prospective international buyers who showed interest but ultimately did not purchase a home in the United States," said Yun.
China and Canada remained first and second in U.S. residential sales dollar volume at $6.1 billion and $5.5 billion, respectively, continuing a trend going back to 2013. India ($3.6 billion), Mexico ($2.9 billion), and Brazil ($1.6 billion) rounded out the top five.
For the 14th straight year, Florida remained the top destination for foreign buyers, accounting for 24% of all international purchases. California ranked second (11%), followed by Texas (8%), Arizona (7%), and New York and North Carolina, tied at 4%.
All-cash sales accounted for 44% of international buyer transactions, nearly twice the rate (24%) of all existing-home buyers. Non-resident foreign buyers (60%) were twice as likely to make an all-cash purchase compared to resident foreign buyers (30%). Nearly 7 out of 10 Canadian buyers (69%) made all-cash purchases, the highest share among foreign buyers. Asian Indian buyers were the least likely to pay all-cash, at just 9%. Almost 6 out of 10 Chinese buyers (58%) and a quarter of Mexican (27%) and Brazilian buyers (26%) made all-cash purchases.
"Due to rising interest rates, overall home sales will decline in the U.S. this year. Foreign buyers, however, are likely to step up purchases, as those making all-cash offers will be immune from changes in interest rates," Yun added. "In addition, international flights have increased in recent months with the lifting of pandemic-related travel restrictions."
Forty-four percent of foreign buyers purchased their property for use as a vacation home, rental property or both. Approximately two-thirds of international buyers (64%) purchased detached single-family homes and townhouses. Nearly half of international buyers (46%) purchased a home in the suburbs while 29% bought a home in an urban area – both figures have held steady over the last five years. Five percent of foreign buyers bought property in a resort area, down from 17% in 2012.
"Driving economic development through our work to foster diverse and inclusive communities remains a top priority for NAR," said Katie Johnson, NAR's general counsel and chief member experience officer. "Our association collaborates with groups across the country to help our members unlock and better understand the opportunities in U.S. real estate for foreign buyers, maximizing the global business potential in our local markets. NAR and the REALTOR® brand has grown to an international network of more than 100 real estate associations across 76 countries, ensuring stable, accessible markets that allow our members to make direct connections with global real estate professionals and sources of foreign investment."
View the full 2022 Profile of International Transactions in U.S. Residential Real Estate here: https://www.nar.realtor/research-and-statistics/research-reports/profile-of-international-activity-in-u-s-residential-real-estate.
The National Association of REALTORS® is America's largest trade association, representing more than 1.5 million members involved in all aspects of the residential and commercial real estate industries.
Source: National Association of Realtors Newsroom
The housing market is a sizzling seller's game at the moment, where homes stand to spark bidding wars and sell for sky-high prices.
"COVID-19 caused so many people to re-evaluate their shelter needs, resulting in increased demand for homes and a continued lack of inventory," explains Lindsay Reishman, founding partner at The Reishman Group in Washington, DC.
All in all, this is great news for sellers—yet with soaring prices and high expectations come a whole new set of possible pitfalls that could trip up inexperienced sellers, particularly if they're selling for the first time.
Curious how you might risk ruining a good thing? We asked some real estate experts to identify what many first-time home sellers get wrong when listing their home today.
1. Overpricing your property
Just because sellers dominate now, don't think "red-hot market = super high list price." A smarter strategy is to list lower than your goal and let the market do its magic.
"First-time sellers often erroneously believe that the list price means the desired purchase price," Reishman says. "In fact, the list price simply indicates an approximate appropriate price, and its purpose is to drive interest in the property."
The greater the interest, the more likely the price will climb as eager buyers bid on it. You're more likely to get interest with a lower asking price.
2. Skimping on home showings
In our not-quite-post-pandemic era, some homeowners may list their property, then feel skittish about having strangers traipse through. To cash in, however, you can't wait it out.
"As soon as the house is listed, it's vital to allow as many qualified buyers view it as possible, to help build demand," says Jonathan Faccone, managing member of the Halo Homebuyers company, based in Bridgewater, NJ. "A seller has a fairly short time window to do this effectively, since if the house sits on the market, buyers may assume something is wrong with it."
If you're truly uncomfortable with in-person showings or have serious scheduling conflicts, virtual tours may separate out looky-loos from truly interested parties. Then, once you know you have a prospective buyer who loves your listing, you can have them scheduled for a (masked) showing.
3. Staging slip-ups
With houses selling so fast, you may think you needn't bother with professional staging. Still, if you want to fetch that dream price that you've heard is within reach, it could pay to present your home perfectly, with some professional home-staging help.
"In my recent experience, staging can reduce a property's time on the market considerably and have a 1% to 5% increase in value offered by buyers," says Stephen Keighery, CEO of Home Buyers Louisiana.
Today's market is keeping these interior design pros busy—as in booked solid for months in advance. So plan ahead.
4. Seeing only dollar signs
A big payoff is tantalizing, but money isn't everything.
"Many people look at price as the end-all-be-all, but a smart seller considers a variety of factors to make an educated decision," says Aaron Carroll, a real estate agent at Douglas Elliman in Dallas. "For instance, the highest offer may have a loan with an appraisal contingency, while a somewhat lower offer might be in cash."
Perhaps the bidders with the highest offer need to sell their home first. That could mean a slow or snag-filled deal. You might be better off taking a slightly lower offer.
5. Pouncing on an implausible offer
Guess what: Buyers know it's a seller's market too, so some may make ginormous bids to beat out the competition—offers that can fall apart in financing or upon appraisal or inspection.
"In this market, it's not uncommon for a buyer to submit an offer for a home, sight unseen," says Deborah Ann Spence, a broker at Fierce Real Estate Corp. in Bala Cynwyd, PA. "Then, if the buyer doesn't like what he eventually does see, the offer can be withdrawn, and the property is likely to lose traction."
The takeaway? If something seems too good to be true, it usually is! Work with your real estate agent to understand who is bidding and how serious they are, to avoid having your deal unravel.
6. FSBO blunders
While "for sale by owner" sounds like a direct route to extra profit, cutting brokers out of the picture is a risk.
"Today's rookie sellers may be tempted to try selling their house on their own," says Faccone, to save the agent's commission. "But doing so severely limits your exposure."
FSBO homes, after all, can't be listed on the Multiple Listing Service, which is where most buyers shop for homes. And this exposure is crucial if you want to reach a large audience and fetch the best price.
"At the very least, put the house on your local MLS [multiple listing service] through a flat-fee listing agency," says Faccone. "You'll still be responsible for the commission to the buyer's agent, but by reaching more potential buyers, you're apt to get a higher price."
Also, in this era of bidding wars, having an agent at your side is a huge help. Navigating a flurry of "highest and best offer" bids is tough for a rookie!
7. Spacing out on the new place
So you're all set to sell your house—great! Now, what's your next move? Avoid winding up with an anxious buyer on one hand and no place to go on the other.
"It can be hard to find the right new home now, so start searching immediately once your property comes to the market," Reishman says. "Then be sure to negotiate an extended closing or leaseback, or even make the sale contingent upon purchasing another home."
If all else fails, line up a rental.
8. Assuming this hot market will last
Inexperienced sellers may turn down a worthy offer or even forestall listing their home, hoping prices will continue to go up. While it may take a while for the seller's market to top out, interest rates are expected to creep up this year, which could reduce the pool of hungry buyers.
"Generally speaking, now is a good time to both buy and sell, with historically low interest rates fueling activity," says Reishman. "But with rates on the rise, I anticipate the velocity of transactions to slow down. Overall, I encourage my clients not to try to time the market, but to let their own specific housing needs dictate what they do."
Source: Realtor.com, Nina Malkin
Ease the process of organizing your closet (and your daily dressing routine) by clearing out coats, luggage, and other cumbersome items.
No matter how big they are, closets never seem to have enough storage space. Whether yours is overflowing with clothes you never wear, or packed with miscellaneous items, a quick refresh can help streamline your closet storage and make room for the things you actually wear. Start by clearing out these 11 items, including out-of-season attire and space-consuming accessories. Once they're out of the closet, you can either store them elsewhere (perhaps in the basement or an entryway closet) or get rid of them altogether. Take just a few minutes to relocate or toss these items and your closet will feel more spacious and organized. (Trust us, you're not going to miss them.)
1. Excess Hangers
Clunky hangers can occupy valuable closet space, so don't hold on to more than you need. Designate a hanger for all of the items you like to hang, then ditch the rest. You might also consider replacing bulky plastic hangers with a more space-saving design with slimline hangers ($12 for 50, Bed Bath and Beyond). If you buy something new, make it a rule to get rid of one item before hanging the new one.
2. Out-of-Season Items
Warm, waterproof boots are essential when winter weather hits, but in July, your bulky boots are taking up precious storage space. The same is true for your sundresses and strappy sandals in December. Stash out-of-season items in the basement, attic, or spare room, or under your bed—anywhere but in the closet—and switch out items as the weather changes.
3. Anything That's Not Your Style
Whether you wear all black, prefer skirts to pants, or have a thing for sparkles, you probably know your own style by now. Rid your closet of items that don't match your personal brand. As a bonus, maintaining a distinct style can make it easier to get ready in the morning, since everything you own already goes together.
4. Bulky Coats
Coat closets exist for a reason. House bulky parkas, umbrellas, and outdoor accessories like hats and scarves in your entryway or in an extra closet outside the bedroom. This will not only free up space in your clothes closet, but stop dirt, salt, water, and other debris from tracking into your sleep space.
5. Items You Haven't Worn in a Year
Whether it was a gift or clearance-rack steal that was impossible to pass up, we all have those items we never wear. Purge any clothing item that's too big, too small, stained, or threadbare. As a general rule, if you haven't worn an item in a year, it's time for it to go.
6. Luggage
Instead of storing luggage in your closet, stash it under your bed or in the basement or attic. Before you pack it away, however, take advantage of the empty space inside and use that suitcase to store out-of-season items or extra linens.
7. Outdoor Accessories
Clear hats, scarves, and mittens out of your closet and instead store them by the door. A small basket or the drawer of an entryway console table works well for storing outdoor accessories in a convenient spot. Then you can bundle up right before you head out the door.
8. Jewelry
Pretty jewelry can double as art if it's displayed correctly. Keep your necklaces on a tree and rings in a decorative dish, but keep them out of your closet. Closet space is typically tight, so you might knock valuables over when pulling out a dress or grabbing a bin from the top shelf. Storing jewelry on a vanity is a much safer (and more easily accessible) option for small accessories.
9. Your Wedding Dress
You might be holding on to your wedding dress for the next generation or for the sake of sentiment, but it's best to store it somewhere other than your closet. Most gowns require special storage and take up a lot of space. Wrap the dress in a garment bag, then store it away from light in a hall closet or under the bed.
10. Pet Accessories
Keep any animal toys or beds out of the closet. And if you have a walk-in closet design, keep your furry friends out too. This helps protect your clothing from pet hair, odors, or potential damage. Dog hair and black pants do not mix, nor do a cat's claws and leather boots.
11. Food Gifts
Keeping food items or gifts, such as fancy chocolates, in your closet invites a host of pesky problems. Moths, mice, and other critters can be lured in by the scent of food and cause damage to your wardrobe. Always store food items in the kitchen, even if the package appears tightly sealed.
Source: Better Homes & Gardens., Katie Bandurski and Jessica Bennett
Interesting lighting, statement color and dashing ironmongery are putting the often-overlooked front door into the design spotlight once again.
Greet visitors, yourself and your family with an attractive front door that isn't a blot on your home's landscape.
'Your chosen front door ideas can say so much about the occupants: The entrance is the first encounter for you, your visitors and the interiors that lie within,' says designer Monique Tollgard, founder, Tollgard Design(opens in new tab).
'The materials and front door colors we use allow us to introduce the "red thread" of the house immediately. For us, the front door is so important; it is the start of the story and first and last impressions are so important.'
These exquisite ways to make a front door more attractive are a great starting point to help you choose the right designs and ideas for your home – what you choose should still reflect the age of your home, the existing finishes of your property, your existing front yard landscaping ideas, and what your neighbors have.
HOW CAN I MAKE MY FRONT DOOR MORE ATTRACTIVE?
The term 'curb appeal' refers to the attractiveness of a home's external appearance, particularly the way it looks when viewed from the street – that all-important first impression that moulds the opinion of every visitor. Designing a home with universally aesthetic appeal is a tall order.
Here, we offer some golden rules for creating curb appeal with an attractive front door, talking to interior designers to pull in some of the best advice around for ensuring your front door looks perfect.
1. INVEST IN A NEW FRONT DOOR
The existing door might be ripe for change because it doesn't suit the style of your home, is allowing heat to leak out, requires time-consuming upkeep, or isn't as secure as it could be. Swapping it for a new design could boost your home's curb appeal, help reduce energy bills, and keep both occupants and contents safer.
If you've never changed your front door before, you might be amazed by the range of materials in which they're available. Personal preference will guide you, but what the door's made from also has a huge influence on what you can expect to pay. Consider, too, that maintenance requirements for the different front door materials vary, and factor this into your choice.
2. GIVE YOUR FRONT DOOR A COLOR REFRESH
The importance of choosing the right front door shouldn't be underestimated as not only does it set the tone for your property, it's also essential for maintaining the security of your home. Your front door should be in keeping with the age, style and scale of your house to ensure it stands outs for all the right reasons. Bear in mind that your front door design will affect which front door paint ideas suit, as well as the period of your home and the color of paintwork visible from the street and your front porch ideas.
Think about whether you want to match the door to the color of your windows, or do you want to go for a high contrast. Don't forget about the ironmongery too, as this will have an impact on the overall look.
You'll also need to consider if you're prepared to take on any ongoing maintenance. If your front door is protected from the weather by a porch or overhang, maintenance will be less of an issue, but those with doors that are exposed to the elements will need to make durability more of a priority.
Here interior designer firm Tyler Karu Design gave the front door of this New England home an exuberant update for spring. 'Much research has been done into how colors affect our mood,' says Tyler Karu. 'Yellow inspires optimism, creating a summery feel; team it with charcoal or navy blue for truly modern look.'
3. USE PAINT TO CREATE UNIQUE DOOR
First impressions are count, so in terms of setting the tone of a home the front door is the perfect place to start. The door décor can be one of the easiest ways to revive the look of a tired exterior, while on a street of identical houses, use creative color to give it a stamp of personality.
'People are becoming braver with their color choices,' says Matt Higgs from Klöeber. 'We're seeing requests for brightly colored doors, such as orange and yellow, as opposed to the more standard greys that have been so in demand recently.'
Bold and daring, this impressive home in the Noe Valley, designed by Heaton + Williams(opens in new tab) is a riot of striking color. Not only has the entire façade been beautifully painted to stand out, but imaginative and decorative door detailing only serves to add to the charm.
4. HANG SEASONAL WREATH
Wreaths are not just for Christmas or Easter, they work just as beautifully for fall and spring door décor, too.
Turn up the style by opting for a pair of wreaths for a symmetrical appearance. Symmetry in interior design is a technique used by designers to create an space that looks incredibly cohesive and tailored – and therefore welcoming and inviting.
Using architectural elements such as front doors is a good place to start, so give a front door a burst of color and intrigue with a fragrant and colorful wreath that is blooming with fresh foliage. Have fun playing about with scale and color but keep the overall effect simple and allow the natural beauty of the flowers to shine through.
5. INTRODUCE SYMMETRICAL ELEMENTS 
The power of symmetry is so good that we had to mention it twice, and it is the best way to make your front door more attractive. A simple solution is to introduce a symmetrical pair of evergreen planters to your front décor ideas, as demonstrated in this space by Margaret Ash Design(opens in new tab).
Clipped evergreens are perfect for creating a punctuation point in your planting scheme, for introducing low shapes to edge paths and to add definition to containers. Choose lollipop bay trees, smart box balls and pompom conifers to add strong shapes that help to define spaces. Topiary is also low-maintenance and looks good all year round.
'I use topiary and evergreen plants and hedges as the backbone to my designs,' says garden designer Richard Miers, whose work is known for using symmetry to create a sense of balance and proportion. 'Using sculpted evergreens is a timelessly elegant way to provide focal points, frame key views and provide interest in spring.
6. THINK ABOUT LIGHTING FOR STYLE AND SECURITY
Front door lighting isn't just for turning your front yard walkway into a Christmas wonderland. It can be used year-round to create appealing effects. Lights positioned on either side of a front door are a useful security feature, especially if they react to movement and are combined with a camera.
A light by the door, either traditional or modern, is inviting to come home to in winter. You can also have lights that highlight the house, in the yard focused on planting or marking the gate/driveway. Dusk to dawn lights have sensors that allow them to turn on and off automatically
You can transform your front door into magical spaces with front yard lighting ideas. As dusk descends, carefully positioned outdoor lighting can play a central role, and they will create a sense of depth and space with the interplay of light and shadow.
7. INTRODUCE SMART TECH
'There are various hi-tech options for opening your front door while you sit in your car or from the office,' says Elizabeth Assaf, co-founder and designer at Urban Front. 'Keypad or fingerprint entry systems can be connected to your smart home system. Keypads allow you to use a card with an electronic strip, a fob or a simple number pad. These are usually connected to your smart home automation systems, to a motorised locking system, or Amazon's Alexa(opens in new tab).
Fingerprint entry lets you to enter up to 100 fingerprints, which you can then add and remove from your smart phone. You can also open the door remotely using the phone app. Both these options require a power supply close to the door. Biometric software options allow iris, face or voice recognition entry system. Becoming popular in the US, they're on the higher end of the cost scale.'
WHAT IS THE MOST POPULAR FRONT DOOR MATERIAL?
The most popular front door material will usually depend on the style, period and architecture of your home. Research your home's style and add an appropriate front door.
A range of materials are used to make front doors. UPVC doors have the advantage of being low maintenance, and high-quality versions look good.
Timber doors have natural beauty, but will need appropriate care, which could be repainting, or wood treatment from time to time. Options include solid wood, and wood veneer finishes on a core of wood or other materials. The latter is a composite door, but you'll also find composite doors made from GRP (glass reinforced plastic) with a wood-look, or painted wood-style finish, which you won't need to redecorate, just clean from time to time.
Front doors can also be made from steel with a galvanized or painted finish. They're very robust and look smart. Aluminium doors are light but strong, and can be cleaned with a mild detergent solution.