When the term "glamping" joined the travel lexicon in the mid-2000s, it referred to luxuriously designed tents filled with touches like handcrafted wood furniture and hammered copper tubs in locations from Montana to Mozambique. Now that this style of refined camping is more popular than ever, a new trend is emerging. Clear, see-through bubbles complete with beds, bathrooms and spectacular sky views have joined the glamping universe in countries like Thailand and Iceland. Here are some of the best glamping bubbles around the world.1Anantara Golden Triangle Elephant Camp & Resort, Thaila
1. Anantara Golden Triangle Elephant Camp & Resort, Thailand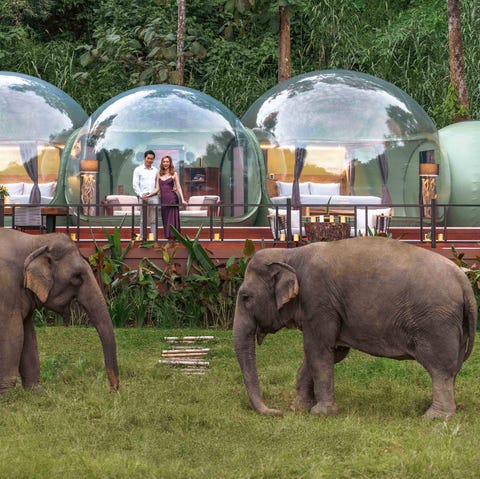 COURTESY THE RESORT
Dine and sleep amongst rescued elephants at what is arguably the world's most special glamping experience. At the confluence of Thailand, Laos and Myanmar, guests can sleep in a two-bedroom or single glamping bubble as elephants from the Golden Triangle Asian Elephant Foundation snack on sugarcane while you enjoy a traditional northern Thai dinner. Afterward, sit on your expansive deck or soak in your private hot tub while these gentle giants roam around you as the stars twinkle above.
2. Amilla Maldives, Maldives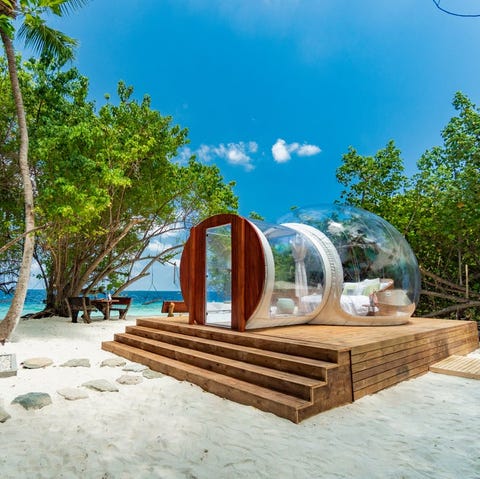 COURTESY THE RESORT
On this private Maldivian island, a secluded glamping bubble is situated on white sand. Book an overnight at Amilla's glamping bubble and choose between several packages. A candlelit surf and turf dinner with champagne or a screening of your favorite movie are just two of the options for couples staying at the resort. Then, after sunset, fall asleep to the lull of the changing ocean tides and the twinkling of the bright Milky Way above.
3. Buuble, Iceland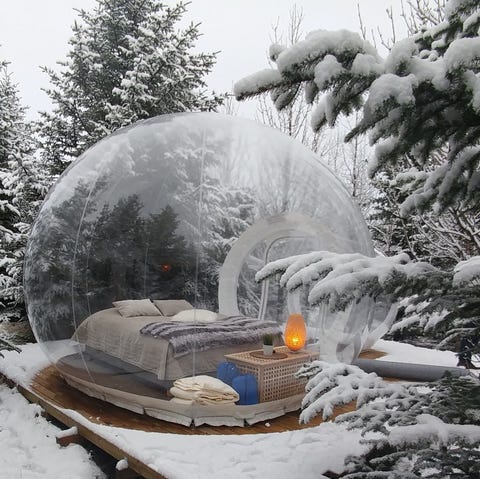 COURTESY THE RESORT
Imagine staring up at the dancing Northern Lights from the comfort of your warm bed. In Iceland, you can. Buubble, also known as The Five Million Star Hotel, is situated amongst the pines, a rarity in typically barren Iceland. During the winter months, guests need to arrange a guided tour or a car with Buuble to stay in one of their bubbles. Or they can book their innovative tree bubble, hanging above the ground. In the summer months, guests are able to reserve an overnight stay only, but beware; the sun will only go down for a few hours.
4.Wilderness Hotel Nellim, Finland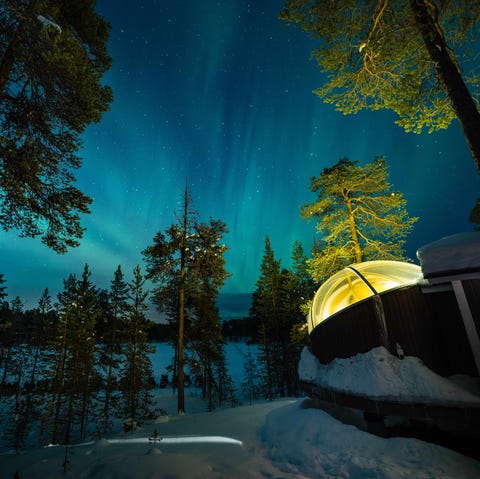 HUNK DE KOCK
This super remote hideaway above the Arctic Circle in Finnish Lapland has glass bubbles instead of plastic. Heated by lasers, travelers will feel like they're in a reverse giant snow globe as the flakes fall around them or the Northern Lights dance directly above their bed. After a day of ice fishing, snowshoeing or feeding local reindeer, the traditional Finnish sauna next to your bubble is a welcome amenity.
5. Campera Hotel Burbuja, Mexico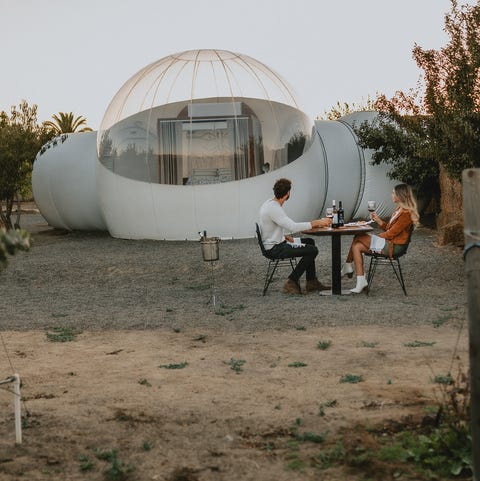 SALSA DIGITAL AGENCY
The rolling vines of Mexico's wine country await. At Campera Hotel Burbuja, 12 bubbles are located inside a working vineyard in northern Baja. There are three categories to choose from, including a bubble with an outdoor bathroom and a Deluxe Bubble Suite with a private Jacuzzi. Filled with custom-made furniture and fabrics inspired by the region, it's an ideal place to pour a glass of pinot and watch the stars.
6. Finn Lough, United Kingdom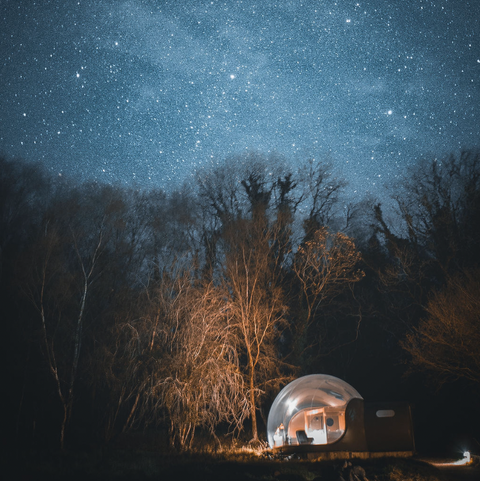 COURTESY THE RESORT
This lakeside retreat on the UK-Ireland border has been welcoming nature enthusiasts since 1983. Its Forest Domes are a newer addition. Tucked under the branches of the hotel's Northern Ireland forest, its bubbles are exceedingly cozy and private. The Premium Bubble Dome combines two bubbles and includes a stone soaking tub made for enjoying a good book and a cup of tea.
7. Wadi Rum Bubble Luxotel, Jordan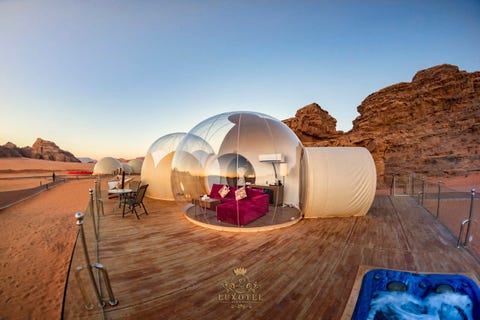 COURTESY THE RESORT
Set against a dramatic landscape akin to Mars, this glamping hotel's bubbles look like space pods from a distance. There are three categories ranging from Bubble Suite Twin to Family Bubble, all with clear ceilings for some of the world's most incredible stargazing. While here, guests can organize a stargazing experience with an astronomer or a camel ride as the desert sun dips below the sand.