'Tis the season to gather outside with friends and celebrate longer days, warmer weather, and the overall lighthearted feeling that summer brings. And speaking of lighthearted… who doesn't want to host friends in the most stress-free way possible? Of course, everyone wants to be a great host and ensure that their guests have a great time when they stop by for Friday evening cocktails or a weekend potluck, but is there actually a way to make entertaining feel less chaotic and more breezy? The experts say "Yes, indeed!" We spoke with event planners from across the country who weighed in on their top tips for hosting with ease.
Focus on YOUR Faves
This is an absolute must when planning a get together, Chicago-based event planner Christine Janda says. "Do you love a great signature cocktail or is creating a design forward tablescape more your jam? Focus your time and energy on what you love at an event and dial back on everything else," she encourages. Not much of a chef? Go ahead and order food from a restaurant you absolutely love and allow your fabulous decorating skills to take center stage. For example, Janda suggests, "Ditch the take out boxes for beautiful platters."
Go With the Flow
Janda says that this is key to ensure a successful gathering no matter the weather. "Plan a gathering that can work inside or out," she says. "I love self serve bars and food stations for this reason. Your guests can make a plate and find their seat, even when Mother Nature decides to (literally) rain on your parade!"
Even if you're pretty sure it will be sunny the day of your party, it never hurts to run through some backup solutions in your mind. "It's always ideal to be outdoors and enjoying the warm weather when gathering with friends or loved ones in the summer months, but it's helpful to have a plan in place in case of inclement weather," NYC event planner Tracy Taylor Ward comments. "Best case scenario, you won't have to utilize this plan, but in the event the weather takes a turn for the worse, you'll be covered (pun intended)! "
Don't Forget About Lighting
This is key when planning events both large and small, Ward notes. "In the summer months when the sun sets later in the day, it's easy to overlook lighting needs, but nothing kills the mood of an event more than having insufficient lighting as the darkness begins to set in," she says. "Proper lighting will keep your festivities going, even after the sun goes down." Ward is a fan of using lanterns, candles, and string lights when entertaining at home.
Plan Ahead
There's nothing worse than scrambling the day of a party to figure out just what exactly you're going to serve, after all. "Create your menu based on group size and keep it simple," advises Melissa Fife, an event planner in New York. "Prep salads and marinate meats the day before." And stock up on plates and utensils—yes, the disposable kinds are A-OK, Fife says. "At the end of the event, everything can just be popped in the trash."
Prioritize Comfort
Your backyard get together shouldn't be stuffy, after all! Megan Papageorge, a wedding and event planner in Charleston, S.C., offers a few suggestions. "When setting up seating, I like to mix lounge style chairs and rockers with picnic tables or traditional eating spaces," she notes. "This encourages guests to mingle and everyone to not be sitting at the same time." And don't forget about warding off critters, who are often ready to join any summertime soiree. "Start by prepping your space with a natural bug spray and lighting some chic citronella candles," Papageorge adds.
And comfort food is a must, too! "In my opinion it's not a BBQ without deviled eggs, potato salad, an assortment of dips, and fresh summer fruit," Papageorge notes. At the same time, ensure that all of your guests feel welcome by accounting for various dietary preferences and allergies. "We always recommend curating a menu with a variety of options to ensure there's food for everyone at your festivities," Ward says. "You'll feel good knowing all your guests are well fed and your guests will appreciate the effort you took to accommodate their individual needs."
Source: Spruce.com, Sarah Lyon
Homebuyers who actually manage to land their dream house in today's crazy market are understandably excited to make it their own. And now that the weather's warmed up, many will no doubt be eager to take their itch for decorating outdoors.
But watch out: If you've never owned a house with a yard or outdoor area before, you may make some rookie mistakes that can seriously crimp your property's curb appeal rather than enhance it.
So, to avoid becoming that new homeowner on the block who makes neighbors point and whisper, beware of these common pitfalls that many pro landscapers and designers say will tank you.
1. Expecting an Instagram-worthy yard in an instant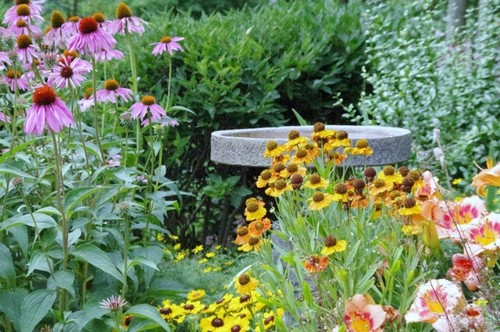 Photo by American Beauty Landscaping Inc.
"We've had new homeowners insist on Insta-perfect landscapes right away," says Oscar Ortega, maintenance manager at FormLA Landscaping.
But the desire for an instantly lush look can prompt newbies to plant too much, too close together.
"This costs more upfront," Ortega points out. "Plus, the plants grow into each other or nearby objects and they sport unhealthy foliage since they have to compete for limited resources. All in all, it creates long-term headaches."
2. Using indoor furnishings outside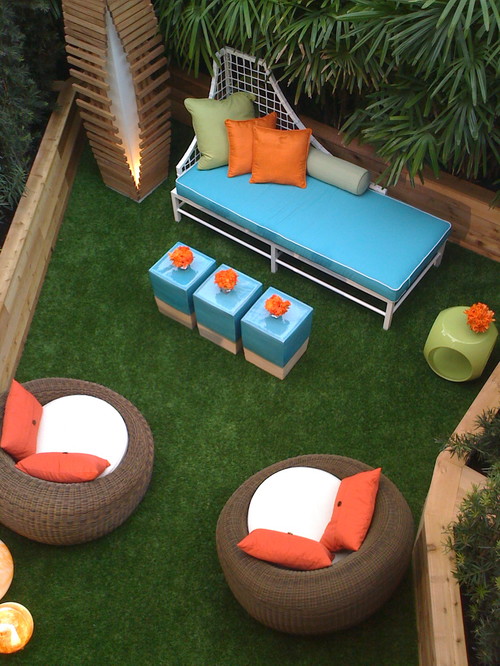 Yes, it's totally trendy for homeowners to trick out their outdoor areas to match the comfort of the indoors—with rugs, flat-screen TVs, and even entire second kitchens. But this doesn't mean you can just haul your indoor furniture onto your deck and call it a day.
"Sometimes people get carried away with decor items, like putting an old sofa or even fake plants outside," says Marco Bizzley, an interior designer and consultant with HouseGrail. "This makes no sense. Don't do it. I can't stand it when a backyard is piled up with furniture. It looks cluttered and more like a yard sale."
Stick to furnishings that look appropriate and are designed for the outdoors so they can withstand the elements.
3. Not protecting decks and outdoor furniture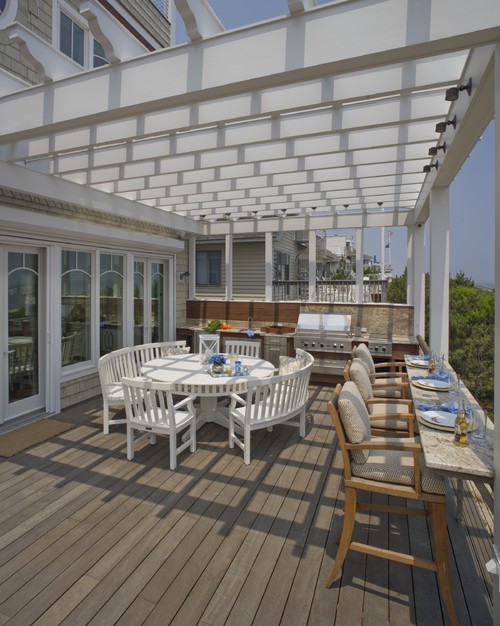 Photo by Bruce Palmer Design Studio
"A lot of new homeowners don't realize that the deck materials you choose need to be treated properly," explains Cristina Miguelez, a home improvement expert at Fixr. "Wood has to be stained to prevent rot in some cases. Or if you invest in rot-resistant cedar, you might not understand that it has to be primed before painting to avoid cedar bleed."
4. Planting shade-lovers in the sun—or vice versa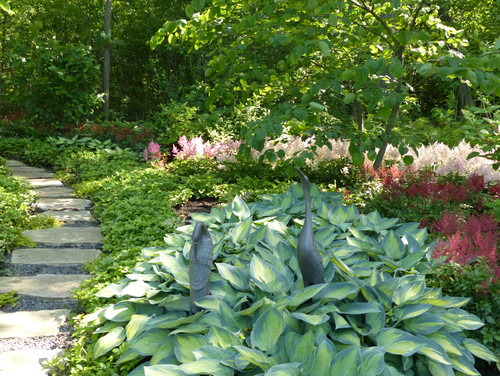 "I've personally seen new gardeners plant hostas, which thrive in shade, in a location that gets full sun, and the leaves burned, turned brown and yellow, and made the whole outside look extremely unattractive—and of course, it killed the plant," says Susan Brandt, the green thumb at Blooming Secrets.
The fix is easy here, she notes, if you take the time to learn about gardening terminology: "Full sun means the plant needs six or more hours of rays; partial sun means just half that amount; and full shade means no direct sun, period."
5. Ignoring HOA rules or local laws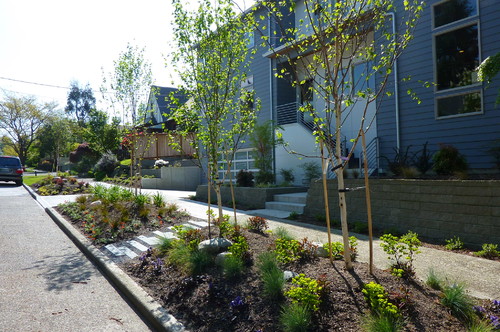 Photo by Erin Lau Landscape Design- Seattle
New to a homeowners association, aka HOA? Before you plant anything, read the fine print.
"New homebuyers can get tripped up by easements in some developments that make it illegal to add trees along the road or near the sidewalk," says Brandt.
The reason: Walkways and driveways can break apart or buckle because of tree roots beneath the surface.
"Removal and restitution are on the homeowner, too," Brandt adds. "So be sure you know the local laws before you start planting."
6. Designing a dream pool without taking temperature into account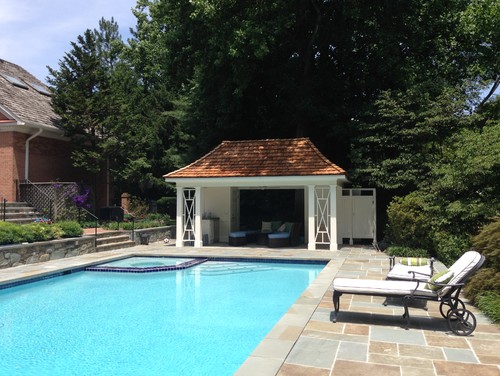 Photo by Land Art Design, Inc.
"Some new homeowners can't help themselves when it comes to finally owning a pool," says Miguelez. And all too often, they choose pool features that aren't appropriate for their climate.
For instance, "stone tiles won't survive a freeze/thaw cycle in northern areas," she explains. After a few harsh winters, a new patio or pool deck constructed of the wrong materials could crack. "This is also true of slab concrete patios and some stamped concrete patios as well."
7. Planting what you love regardless of climate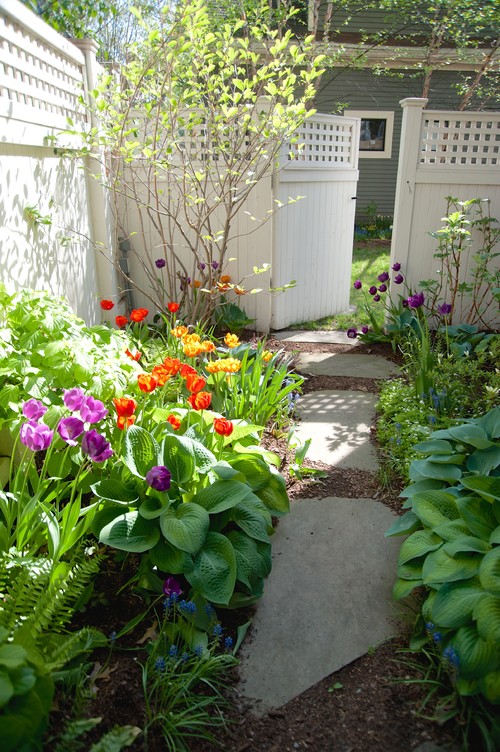 Photo by Jean Brooks Landscapes
"My father loved planting bulbs such as crocus, daffodils, and tulips, but when he moved from New York, which is hardiness zone 6, to North Carolina, zone 8, he was never successful with these flowers," says Brandt.
Truth: You can't zip past that hardiness chart you see at the plant store and just hope for the best.
And it's not just that first-time homeowners are planting warm-weather plant friends in too cold a place.
"The climate in many areas of the U.S. doesn't have a cold enough period for bulbs to flourish," Brandt says. "So no matter where you live, find your hardiness zone before you buy or plant anything in an area that's unfamiliar to you."
Brandt suggests checking plant hardiness zones at the U.S. Department of Agriculture.
Source: Realtor.com, Jennifer Kelly Geddes
If you weren't one of those kids whose nightly chore was to set the table—or if you're facing your first formal dinner party, and the concept of multiple forks seems overwhelming— setting a table can be a daunting task. Where does the bread plate go (do I need a bread plate?!)? How many forks is too many forks? And what about glasses? Dessert spoon—what?! And while many of the "rules" of traditional, formal dining à la Emily Post may seem archaic today, the fundamentals remain the same, whether you're setting for a state dinner or a casual birthday brunch. And the best part it, once you know how to do it right, you'll have no problem setting any table—and, hopefully, even having a little fun with it. So without further ado, let's learn the rules.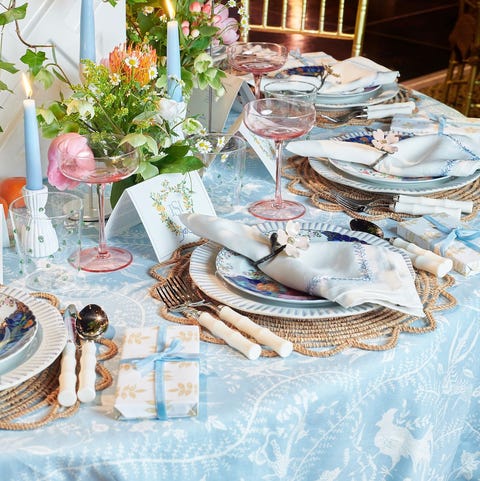 A table set by Sara Hillery.MARCO RICCA
For a formal table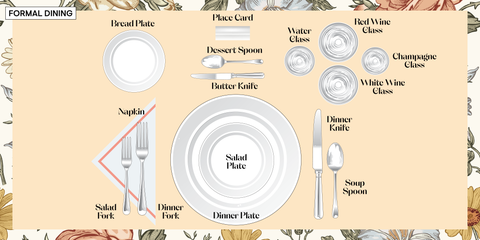 ALICE MORGAN FOR HOUSE BEAUTIFUL
We'll start with a formal table because once you know how to do that, you can essentially just subtract the items you're not using to set a more casual version.
Placemat: If you're using one, this should be the first thing you lay down, as it will serve as a kind of guide for the rest of the setting. Place the placemat one inch from the edge of the table.
Charger: The charger is the term for the large plate that goes under all other plates—for a formal, served dinner, this is what the waitstaff will use to hold other plates when serving. In a more casual setting, you'd substitute this for the dinner, or largest, plate (more on that later). Put this in the center of the placemat.
Napkin: There are several ways you can get creative with napkin placement. For a traditional layout, fold the napkin and place it to the left of the charger. Looking to switch it up? Try folding the napkin in a rectangle on top of the charger and under the salad plate, or using a napkin ring and placing it atop the plates.
Dinner Plate: The largest plate, this goes atop the charger, centered.
Salad Plate: Put this on top of the dinner plate. Note: depending on the meal being served, you may not have a salad plate, or have a soup bowl instead (in that case, put the soup bowl here!).
Bread Plate: The bread plate goes on the upper left corner of the placemat.
Forks: Place the forks to the left of the plates (usually on top of the napkin) in the order you'll use them. That means salad fork on the outside and dinner fork on the inside. If you're having seafood, place the fish fork accordingly. One exception: Hold off on the dessert fork!
Dinner Knife: Place this to the right of the plates, closest to them.
Spoons: Place these to the right of the knife, again, going outwards in order of course (a good way to remember this is that RIGHT has 5 letters, like KNIFE and SPOON, the utensils that go there; LEFT has four letters, like FORK). Hold off on the dessert spoon.
Dessert Utensils: The dessert spoon or fork goes above the plates, centered.
Butter Knife: The butter knife can go either under the dessert spoon or knife or, if you have two dessert utensils, atop the bread plate.
Water Glass: The water glass goes on the top right corner of the placemat.
Wine Glass: Next to the water glass on the top right. Red wine gets the larger glass, white gets the smaller size.
Champagne Glass: Next to the wine!
Place Card: The place card traditionally goes above the dessert utensils, but if you're entertaining, feel free to have fun with it. Put the card with a name atop the plates, write it on a piece of fruit or another accessory, or use an unexpected vessel, like a teacup!
For a casual table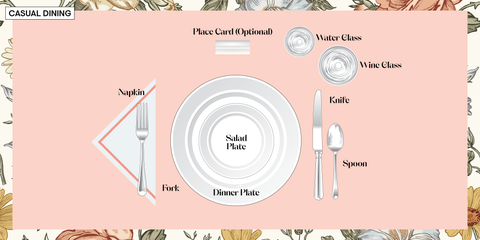 ALICE MORGAN FOR HOUSE BEAUTIFUL
For a casual table, you'll use essentially the same method as above, just omitting any elements you're not using. Here's a breakdown:
Plate: Place the largest plate in the center of the setting, either atop a placemat or not!
Napkin: Place to the left of the plate or atop it (a napkin ring is a great way to add a pop to a casual table).
Fork: On the left!
Knife: On the right!
Spoon: On the right!
Glasses: Top right!
Once your table settings are complete (try to leave around 4 inches between each one), you're ready to move on to the fun part: decorating your table! Add candles, flower arrangements, or unexpected elements, like fruits, vegetables, or your favorite decorative objects. The more unexpected, the more interesting. After all, there's no better way to set the scene for a fun dinner party than with a conversation starter. Bon appétit!
Source: House Beautiful, Hadley Keller
With just a few swipes through your social media feed, you're bound to land on a very inspiring photo (or five!) of a perfectly organized space filled with beautifully coordinated bins, baskets, and labels. And before you know it, the urge to shop that photo starts to take hold and you find yourself just wanting to grab every single organizing product you can get your hands on. Here's the thing, though: buying organizing products doesn't make you any more organized than buying a celebrity tabloid makes you famous.
The temptation for an easy fix is strong, and so is the desire to replicate what you see in all of those pretty, matchy-matchy decluttered spaces on social media. Lucky for you, you don't have to fall into the same traps. Here are three specific instances where you can waltz right by organizing products aisle and break the rules a little, and three where attempting to invest in being a little more organized will really pay off.
Skip the Matching Hangers
Slim, velvet hangers are terrific for spaghetti straps and silky blouses. But, they are not so great for a t-shirt with a small neck opening or a sweater. If you look in my (incredibly organized) closet, you'll find about four different types of hangers in different colors hanging all mixed up together like veggies in a pot of soup. I use hangers that work best for my different types of clothing, and as a professional organizer, I'm giving you permission to save your money and use the hangers you already own. They'll work just fine.
Avoid Super Specific File Folders
Filing paperwork is a drag, I'll admit it. And it's an even bigger nuisance when you have 15 million categories all in different folders. I'll tell you though, "filing systems" with pre-printed labels are not the answer; Mr. File System Creator doesn't know your life!
The best way to achieve an organized filing drawer is to use broad, general categories for your file folders instead of getting too specific. I don't know about you, but I certainly don't need a folder for each automobile we have — I need one file labeled "cars." I don't need a folder for every bill I pay each month — I need one file labeled "utilities" or "monthly bills."
If you're really serious about creating the most organized filing system though, the main trick is actually to keep fewer papers. You may initially feel worried about throwing away something important, but think about how many times you've referred to similar papers in the past. You probably haven't. In fact, it's likely you will never reference an oil change receipt or an outdated insurance policy. Throw them away! And while you're at it, recycle the user's manual for that user's manual too.
Drop That Set of 15 Food Containers
Unless you're just starting to build your food storage container collection from scratch, chances are you really don't need all of the many sizes that typically come in a set. Instead, skip the set and buy only pieces you need. While you're taking inventory of what you actually need, take a moment to throw away pieces that have lost their other halves (who can keep up with those pesky container tops, anyway?). And just remember, if your food storage container drawer is overwhelming, it's likely because you have too many containers, not because you need more.
As for how to actually store your containers, the verdict is a bit mixed here. Some professional organizers recommend nesting your containers, while others (including me) recommend storing them with the lids on. Either way, both of these methods are more helpful than purchasing a new set just because your old one is giving you a hard time.
And now, the good stuff! Here are three organizing hacks that will help you that you should give a try.
The Lazy Susan (or Turntable)
This is the workhorse of an organized kitchen. Do you have a lot of condiments lost in the back of your fridge? Get yourself a turntable or two! Do you have a deep corner cabinet akin to a black hole? Get a big ol' turntable for each shelf. 
What about your spices or bottles of oil and vinegar? Check and check! Get as many turntables as your heart desires. If you run out of uses for them in the kitchen, they can also help your organize a medicine cabinet, the bathroom counter or underneath the sink — wherever you store small containers or bottles.
Shelf Extenders
Also a game changer in your cabinets, these plastic or wire shelves can increase your cabinet space and save you from having to lift a stack of bowls to retrieve a plate. (We've all done that dance, amiright?) They'll allow you to store a few more coffee mugs in the kitchen or toiletries in the bathroom.
Hanging Sweater or Shoe Shelves
These are yet another miracle organizing product I recommend fully. They are perfect for storing gloves and hats in your coat closet or any other non-hangable small things you need handy by the door. They also work well in children's closets. Use the hanging shelves to store toys, socks, shoes, or an outfit for the next day. I use the shelves in my closet for my workout clothes which don't fold well and I can't be bothered to hang up. That's right, I shove my Lycra into these shelves and call it organized!
The truth is, no one product will instantly make you more organized, but finding the right ones can help you better access your stuff, which will make your life a little easier. That's win enough for me.
Source: Apartment Therapy, Nonnahs Driskill
Before you can make the transition from renting your home to owning your home, you will need to have a substantial down payment, typically 5 to 20 percent of the home's value. The American Bankers Association suggests the following tips to help save for it:
Develop a budget & timeline
Start by determining how much you'll need for a down payment. Create a budget and calculate how much you can realistically save each month – that will help you gauge when you'll be ready to transition from renter to homeowner.
Establish a separate savings account
Set up a separate savings account exclusively for your down payment and make your monthly contributions automatic. By keeping this money separate, you'll be less likely to tap into it when you're tight on cash.
Shop around to reduce major monthly expenses
It's a good idea to check rates for your car insurance, renter's insurance, health insurance, cable, Internet or cell phone plan. There may be deals or promotions available that allow you to save hundreds of dollars by adjusting your contracts.
Monitor your spending
With online banking, keeping an eye on your spending is easier than ever. Track where most of your discretionary income is going. Identify areas where you could cut back (e.g. nice meals out, vacations, etc.) and instead put that money into savings.
Look into state and local home-buying programs
Many states, counties and local governments operate programs for first-time homebuyers. Some programs offer housing discounts, while others provide down payment loans or grants.
Celebrate savings milestones
Saving enough for a down payment can be daunting. To avoid getting discouraged, break it up into smaller goals and reward yourself when you reach each one. If you need to save $30,000 total, consider treating yourself to a nice meal every $5,000 saved. This will help you stay motivated throughout the process.
With skyrocketing housing prices, homeownership may be out of reach for many Americans.
Yet rents are also rising. So how do you know if you should own a home or rent? It depends on a number of factors, experts said.
"If you're not sure whether or not you want to rent or buy right now … it's better to make your decision based on your personal situation and your personal needs," said Lexie Holbert, housing and lifestyle expert for Realtor.com.
Home prices jumped 19.2% year over year in January, according to the S&P CoreLogic Case-Shiller Index. Meanwhile, single-family rental homes gained a record 12.6% in January from 12 months prior, according to CoreLogic.
On top of rising prices, mortgage interest rates are also soaring, hitting their highest level in more than three years last week.
When it comes down to the numbers, it's generally more affordable to own a home, but the gap in affordability is shrinking as interest rates rise, according to ATTOM, a real estate data tracker. Owning the median-priced home is more affordable than the average rent on a three-bedroom home in 58% of the country, ATTOM reported in January.
To be sure, affordability is an issue for many. Fully 64% of nonhomeowners said it's holding them back from owning a home, including 43% who believe their income levels are not high enough, a Bankrate survey found. High home prices and the inability to swing a down payment and/or closing costs were also constraining buyers.
Here's what to consider when making a decision whether to own a home or rent.
Timing is everything
Before you consider buying, think about where you are in your life. Are you looking to settle down somewhere for a while or will you be moving in a couple of years?
The general rule of thumb is it takes about five years to seven years in a home to recoup the purchase costs, Holbert said. That includes closing costs, which add between 2% and 5% to the purchase price.
"If your home needs are going to be pretty consistent and pretty stable over the next few years, now may be a really good time to buy for you," she said.
"If they're changing, you may want to consider renting so that you have the flexibility to move."
Check your finances
Ask yourself if you are financially ready to own a home. That includes having enough emergency savings in case something happens in your first year of homeownership, Holbert said. You should also have enough monthly income to afford the mortgage payment, taxes and insurance, as well as extra monthly expenses like utilities.
Check your credit report, as well, since your credit score has a direct bearing on the mortgage you'll get and interest rate you may pay. If you see any mistakes, get them corrected before you apply for a loan.
If you can't afford the monthly payments, continue to rent and keep saving money if homeownership is your ultimate goal, Holbert said. If high rent prohibits you from saving, consider downsizing or making other big lifestyle changes so you can start putting more money aside.
"You'll read that if you cut back on your $4 latte habit, it could really help you save for a home," she noted.
"While it's really good to save, where you're really going to find that big cash for that down payment is going to be in those big spending categories, like housing or your car."
Know your number
Figuring out what you can afford if you were to purchase a home is especially important now as home prices are rising, Greg McBride, chief financial analyst at Bankrate.
This way, you have boundaries set around your home shopping.
"The position you won't want to be in is falling in love with a home and getting your offer accepted and then having to figure out how to pay for it," he said.
Check out homes in your price range on sites like Realtor.com or Zillow to determine if they fit your needs.
You can also use online calculators to help you make a financial determination between renting and buying, including those from SmartAsset, NerdWallet or Realtor.com.
Also, keep an eye on rising mortgage rates, Holbert warned. The Federal Reserve has indicated it will increase interest rates six more times this year, which, in turn, impacts mortgage rates. That's why, if you are currently in the market to buy a home, it may be better to do so now before rates and prices climb higher, she said.
Just don't get caught up in FOMO — or the fear of missing out. That could lead you to regret your purchase and put you in a financial bind down the road, McBride said.
"The novelty of that house will wear off; the mortgage payments will not," he said.
Use these tips to minimize noise, delineate space and establish personal boundaries in an open layout.
"Open-plan layout" is a generic term used in interior design and architecture for any floor plan that makes use of large, open spaces and minimizes the use of small, enclosed rooms. They are, for the most part, free of interior walls or partitions. Open floor plans became popular in the 1970s, but over the past year, as people have been isolated at home, all that openness is causing some to reconsider. It turns out those walls, partitions and other barriers are useful for minimizing noise and giving a visual and physical sense of privacy. Here are 15 ways you can create that separation in an open floor plan.
1. Arrange the Furniture

This is definitely the place to start when it comes to defining zones for your interior, and it likely won't cost you a thing.

Turning the backs of chairs and sofas to the rest of a space is an immediate way to signal a separate area. Rearranging your furniture to carefully create cordoned intimate sections may be the most powerful tip for redefining an open layout.

For example, if your living room is alongside your dining room, make sure your sofa has its back to the table or that your chairs are facing the fireplace, like in the space shown here. This will create a notion of separateness.

Having textured portions of wall, like the dramatic stone fireplace here, also helps visually signal different areas.

Find an interior designer or decorator near your
Allard + Roberts Interior Design, Inc
Adding surfaces behind furniture zones can also create a barrier. A console table behind a sofa, like shown here, is a nice way to add height and definition.

The more height you add to your console table in terms of accessories and items you place on the surface, the more of a visual barrier you'll create. Consider tall vases, high stacks of books and table lamps.
2. Add an Area Rug

Another strong way to create a visually distinct area is through the placement of rugs on floor surfaces. They also enhance your decor and add softness to the overall space. Rugs are also great for absorbing noise, which is helpful when multiple activities are happening in one space.

Be sure you select a rug that is the appropriate size. It should at least fit the main piece of furniture, such as a sofa, on it.

Shop for an area rug
If you're unsure on what style of rug to go for, my recommendation would be a bold pop of color to really define the zone and give it a radically different personality.
3. Introduce a Folding Screen

One low-commitment way to divide a space is with a decorative folding screen. These vertical barrier pieces can also inject pattern and color into a room. And they can be easily moved around to other areas of the home or taken out completely when you're ready for a full open floor plan again.

Notice how the screen here creates an intimate seating area while adding color and pattern. The striking light fixture carries weight and also helps define this space. At night, the light will punctuate the zone even more.
4. Accent the Ceiling

Sometimes the best ideas come from above. The inset ceiling in this living room is dressed in wallpaper and finished with multiple bulb lights. This feature stylishly characterizes the sitting area.

For a more subtle but still effective approach, consider enhancing a ceiling with paint or molding.
5. Use a Bookcase

I love the idea of using an open bookcase to separate areas because it serves double duty: division and storage. Be cautious how you dress the shelves, though. I highly recommend that you do not stuff your bookcase to the gills. Leave some open space to allow brightness to filter through and highlight the objects.

Also, choose a high-quality, sturdy unit. This is not a piece to skimp on because you do not want this unit to tip over. You should always anchor and secure a freestanding unit that you're using between spaces. Or, as in the example shown here, the bookcase unit is attached to the ceiling above and a pony wall below, ensuring it stays in place.

You could also consider a solid bookcase, which will create a more definitive separation. In that option, you could place two bookcases back to back, so you have storage on both sides or hang art on the back of one bookcase.


To keep some sightlines open, a lower storage unit like the one shown here may be right for you.
This two-sided, floor-to-ceiling shelving unit offers storage and separation between a living room and kitchen. Anchoring the TV onto the unit helps really define the areas.
6. Put In Drapery

Curtains can go far beyond just dressing your windows. They can make a plush room divider too. It's a look that will create softness and enhance a room's ambiance. But because there's no standard size curtain and rod for a room application, going custom is probably the best route.
You can opt for opaque fabric to add a complete barrier or choose sheers like in this room to keep things feeling somewhat airy. Sheers come in a variety of light-filtering options so you can customize the brightness level you're going for.
7. Install a Decorative Divider

A stylish fixed screen divider is an elegant way to break up a room. It can also add an arty feature to your space. Consider your surrounding design and architectural elements when selecting the pattern, color and material for a fixed screen. You want it to feel intentional, as if the divider was always part of the space rather than an afterthought.

Here, classic midcentury modern-style breeze blocks coordinate with the Eames-style dowel leg chairs and other midcentury-inspired details.
Images Of Interiors // Photography
This geometric metal divider pairs beautifully with the clean-lined contemporary kitchen.

Keep in mind that the less dense your pattern, the more you'll see the adjacent zone, so really think about how you'll be using the spaces side by side to help inform your design needs for a divider.
The size of your divider is also important for comfort and accessibility. The average opening width considered adequate between spaces is within a range of 42 to 48 inches. So you don't want a divider to encroach on those pathways.
8. Incorporate Plants

A large leafy green tree can add a lively optical barrier. The ficus tree in this home in Austin, Texas, helps separate a living area from a dining spot. Also, notice how the homeowners painted a single wall on the left a different color than the other walls to signify a transition space.
Jessica Helgerson Interior Design
An indoor planter box is also a great way to create some delineation while keeping some sightlines open.
9. Put Up a Glass Partition

A glass partition helps block noise while letting light pass between spaces. If you want to obscure the view to further separate rooms, consider etched or textured glass.
You can also create a full glass wall with doors. This keeps the feel of the open plan intact but allows a user to shut the doors and listen to music or take a phone call without disturbing, or being disturbed by, activities in the adjacent room.
Another alternative is vertical glass louvers that can be rotated. If you've got nearby operable windows, the louvers can be turned so the breeze flows right through. You can also create moody features with shadows and lighting, depending on how you pivot each panel.
10. Build a Wall

It might seem counterintuitive to put up a wall where one was previously taken down or add one to a new-build home intended to be open, but sometimes you have to be honest about how you use your home and what your needs are.

And you don't have to add a full wall. Sometimes a pony wall or a partition wall like the orange one shown here that stops just short of the ceiling is enough. Plus, a simple non-load-bearing wall made with two-by-fours and drywall is relatively easy to put up and take down.

Also, notice the decorative divider used in this space.
11. Take It to the Next Level

Changing the level of a room or creating a sunken room is a method that will definitively separate spaces within an open layout. A level change down from a main floor area can offer increased headroom and a feeling of spaciousness. A level change up will create a more intimate space.

Keep in mind that level changes in homes can be difficult to navigate for people with mobility issues, so always consider handrails or other support structures.


12. Create a Kitchen Island

If your kitchen feels too open to surrounding rooms, like if you're trying to cook and guests or family members keep coming in and getting in the way, investing in an island could be right for you.

An island forms a barrier that keeps people on one side and the chef on the other. It also visually denotes the separation of spaces. Counter stools will further highlight the boundary point, but also consider placing a small beverage fridge on the outer side or end to let guests grab a drink without needing to come fully into the kitchen to the main fridge and potentially get in the way of the cook.

For a less permanent option, consider an island on casters that can be locked or unlocked, allowing you to push the piece out of the way to create a more open feel as needed.


13. Design an Artsy Feature

If you lack wall space to hang artwork because of an abundance of windows (not a bad problem to have), consider creating, or hiring an artist to create, an art installation that separates rooms.

In this Montana home, an installation of what appears to be birch trees and trunks cordons off the dining area from the living room. Also, notice how the level change defines the spaces, as does the large light fixture over the dining table.
In this New York loft, twisted floor-to-ceiling sculptures add drama and designation to the open layout.
14. Incorporate Sliding Panels

Sliding doors are popular for fully opening up interiors to outdoor spaces, but the concept can just as easily be applied to interior spaces.

In this San Francisco home, sliding panels can completely shut off or open up a workspace to the main living areas.

For this arrangement, you need bulkheads or another system for supporting the tracks from which the panels hang. If tracks are going in the floor, that's something that will require extra thought and planning. Also, keep in mind that some setups might be more difficult to clean than others, so it's worth doing your homework. If the panels permanently overlap, for example, it can be hard to clean the space between them. If the tracks are on the floor, dirt and other debris can settle in the nooks.


15. Construct a Two-Sided Fireplace

A two-sided fireplace is perhaps the coziest and most inviting option of the bunch. Fireplaces always create a striking focal point, and a two-sided option has the advantage of distributing heat and ambiance more evenly to two areas than if it was against one wall at the end of a large open room.

You can also consider bio-ethanol or electric options that don't require a chimney.


For most people, the kitchen is the heart of the home. It's where families come together for meals (even the dog!), kids do their homework and often crafts, and games are played and days are talked about. This high-traffic area can get pretty dirty pretty quickly, but since its central function is as a place to store and prepare food safely, it is ultra important that it stays clean as a whistle. The good news is that learning how to clean your kitchen isn't overly complicated. In fact, it can be rather simple when you follow orderly steps. Whether you need to find out how to clean stainless steel or how to clean your dishwasher, we have the answers. Just remember that it's crucial to keep a consistent cleaning schedule for yourself and your family. Then, once you have your kitchen cleaning down to a science, you can start work on kitchen organization.
PC PHOTOGRAPHY/GETTY IMAGES
Light fixtures
Most professional cleaners start from the top and work their way down. That way, all the dust and debris fall to the ground, explains Sarah Karakaian, a home rental consultant who uses her cleaning and house-staging expertise to help clients improve their rental properties. "The last thing you want to do is spend an hour mopping your floor only to have dust from the top of your light fixture or cabinet dot the floor," she says.
How you clean a light fixture will depend on what type it is. Chandeliers can be dusted and/or sprayed with a drip-dry crystal cleaning solution, while pendant light fixtures can be wiped down with a splash of vinegar and a microfiber cloth. Safety note: Before cleaning any light fixture, make sure it's turned off and the bulb is cool. If you need help reaching it, use a step ladder, not your kitchen chair or another piece of furniture.
ONFOKUS/GETTY IMAGES
Cabinets
After you've cleaned the light fixtures, start on any crown molding on your cabinets. Wipe the dust off the top with a microfiber cloth and work your way down the cabinet door. To clean away grease, fingerprints, or any other spots or stains, try washing the doors with a few drops of Dawn in water and a microfiber cloth. "Avoid abrasive cleaning products that could damage your cabinet finish," Karakaian says.
If that doesn't work, create a paste of water and Tide Powder, apply it to the spot and let it sit for a few minutes, before lightly rinsing and then wiping away with a microfiber cloth, she recommends.
Pay special attention to cabinets near the stove, oven, and microwave, as they may have food splashes on them. Another area on cabinets that's often forgotten is the wood detailing, Karakaian says. "These tight spots can get very dusty." A clean, soft toothbrush and the dish soap mixture can help you get the nooks and crannies clean.
CHARDAY PENN/GETTY IMAGES
Countertops
To clean countertops made of natural stone, such as quartz or granite, use simple dish soap—Karakaian prefers Dawn—and water to gently rinse away any particles with a microfiber rag; never use a harsh, abrasive sponge. The same process works for laminate counters.
For caked-on gunk, carefully use a razor to loosen the substance, then clean as normal. Rings from a wine glass or a coffee stain can be erased by letting a dash of Bar Keeper's Friend sit on the surface for a few minutes before wiping it away with a cloth and warm water. For an even faster fix, the Magic Eraser will buff that red wine stain out in a jiffy.
DEEPBLUE4YOU/GETTY IMAGES
Sink
To clean chrome, stainless steel, or metal finishes on the sink, Karakaian likes to use Bar Keeper's Friend powder, letting it sit for a few minutes before wiping it away with a cloth. You'd be surprised at how much grime builds up right by the drain, so spend a bit more attention on that area. For a natural alternative, sprinkle a bit of baking soda, let sit for a minute or two, then scrub. While you're at it, also remember to clean and deodorize your garbage disposal
KUNERTUS/GETTY IMAGES
Dishwasher
Deep cleaning a dishwasher takes a bit of time and elbow grease, but luckily, it doesn't have to be done too frequently—about once every month should do it, depending on the model and the type of water you have. The exterior, however, is a completely different story. Grimy fingerprints, food splashes, and hard-water stains stick like crazy to stainless steel. Clorox scientist and cleaning expert Mary Gagliardi suggests wiping down the exterior with a Clorox Wipe, paying special attention to the areas around the seal, which tend to harbor bacteria, and the hinges, which can be hard to reach.
XEFSTOCK/GETTY IMAGES
Stove top
Cleaning your stove top is vital—not only because a dirty stove top looks bad, but also because food splatters contain bacteria and can lead to grease buildup, says Johnny Pallares, owner of De La Rosa House Cleaning. Bacteria, particularly from raw chicken, meat, or seafood, can lead to food poisoning, while grease can lead to a grease fire. That's why you need to clean and disinfect your stove top.
How you clean your stove top depends on which type of stove top you have. In general, warm water with a few drops of dish soap and a microfiber towel are enough to tackle the job. For hardened food stains on a glass electric cooktop, use a small razor blade to gently chip away the spot, Karakaian says.
PAUL BIRIS/GETTY IMAGES
Fridge
Plan on cleaning the exterior of your fridge weekly to wipe down smudges and fingerprints, especially on and around the handles. Water and dish soap wiped on and off with a microfiber towel works for stainless steel. If it's very dirty, use Bar Keeper's Friend.
As for the inside, aim to clean your refrigerator once a month by removing all the food and tossing anything that's old or expired, then wiping down the shelves and drawers.
ALFRED EVELINA/GETTY IMAGES
Floors
The first step to cleaning your kitchen floor is to sweep or vacuum thoroughly. Next, "use the thin-nose nozzle attachment and vacuum all the crevices and corners, and up to the baseboards," Karakaian says. Be sure to hit right under the oven and refrigerator, as well as other spots where crumbs frequently land.
If the floor is tiled and you're going to clean your grout, whip up a thick paste of baking soda and water, or Dawn and water, and attach a microfiber cloth to a mopping tool, like a Swiffer or Bona. Glide the mop across the floor, left to right and top to bottom, catching all the dust and other particles. Vacuum up whatever doesn't stick to the cloth.
MARIANVEJCIK/GETTY IMAGES
Microwave
The more often you use it, the more you'll need to clean your microwave. If it's only mildly dirty, try simple soap and water on the inside and out. If there are grease or food splatters on the inside, fill a microwave-safe bowl filled with equal parts vinegar and water, place it in the microwave, and heat for one minute, says Karakaian. Let it sit undisturbed for another minute before carefully removing—it could be hot. This process loosens all the gunk stuck to the sides and top of the microwave, so wiping it clean should be easier. Don't forget to remove the turntable and wash it with soap and water.
TMB STUDIO
Coffee maker
Though the exact steps you'll take to clean your coffee maker are a bit different if you have a Keurig machine, the general idea is the same. Have white vinegar on hand—it's food-safe and good for cleaning both the interior and exterior of your coffee maker (though you'll want to check your specific model's user manual first). In most cases, you can use a vinegar solution to clean the inside of your appliance and also descale it. To clean the exterior of a stainless steel or plastic coffee maker, make a mixture of one part vinegar to one part water, spray it down, and then wipe away any coffee stains or fingerprints. If your carafe is dishwasher-safe, go ahead and run it through a cycle.
Source: Readers Digest, Kaitlin Clark
A favorite pastime of many buyers scrolling through real estate listings—or walking through an open house—is fantasizing about what life could be like in that home.
You might spot a swanky "Mad Men"–style bar that would be perfect for book club nights. Or maybe you'll begin planning the feasts you could whip up with that six-burner stove! And what about the garden's burbling fountain? Ah, that sound would be perfect for falling asleep to every night.
But here's the thing every buyer should know: When it comes to house hunting, what you see isn't necessarily what you get. Indeed a seller can rightfully haul off some items you may think automatically come with a house you purchase. So here's a helpful reality check before your imagination runs too wild. (Bonus: We share tips to keeping some of those fixtures you absolutely love.)
What's included in a home sale?
Precisely what comes with a home is not cut and dried, and each state has its own set of guidelines regarding this issue. But there are some guiding principles.
"If an item is attached, it is considered a fixture and by default should stay with the house," says Dj Olhausen, an agent with Realty ONE Group in San Diego. "On the other hand, if an item is not attached, it may very well leave with the seller."
If that still seems vague, "fixture" is a real estate term used to describe items that are physically attached to the house via nails, screws, bolts, glue, cement, or electrical wiring. Standard fixtures inside the home include ceiling fans, blinds, plumbing and heating elements, and built-in appliances. Outside the four walls, items that generally stay put include mailboxes, shutters, backyard office sheds, and in-ground landscaping.
Attachment issues
You might assume a refrigerator that looks built-in stays with the house or that the sellers will take their kid's swingset with them. That's where the acronym MARIA can help you identify fixtures:
Method of attachment: If you need tools to remove the item, it's probably permanently attached and considered a fixture. That's why curtain rods stay with the home, but the curtains—which can be easily slipped off—usually go with the seller.
Adaptability: If an item is adapted to be an integral part of the home, even if it isn't physically attached, it usually stays. Examples include garage remotes, pool covers, lightbulbs, and even a floating floor.
Relationship of the parties: In a dispute over what stays, it comes down to whether the seller installed what appears to be a permanent fixture. So if a home has shutters, the buyer can argue those were meant to be a forever fixture and should stay behind.
Intention: Similar to above, if it seems the homeowner intended for the object in question to be a permanent part of the property, it stays. For instance, a desk in a home office specifically built to fit into an alcove—even though it isn't bolted down—could be deemed a fixture.
Agreement: When in doubt, refer to the purchase agreement to determine what's included in the sale and what isn't.
Just keep in mind there are some common-sense exceptions to the definition of "attached to the property." For example, let's say the owners have a dresser that's bolted to the wall to prevent it from toppling over on a toddler, or they have bookcases attached with earthquake straps to keep them from tipping over. In those cases, the actual furniture isn't considered a fixture.
What about outside the home?
"In general, any object attached to the ground is considered a fixture, while anything that can be moved freely will be deemed personal property," says Olhausen.
Still, when you are touring a home, it may not be apparent if something is attached or not.
"So when it comes to deciding if an outdoor item is viewed as a fixture or someone's property, ask yourself if it can easily be removed without the use of tools," says Olhausen.
For example, electric vehicles typically require hardwiring and electrical system upgrades for a charging station.
"I have found that some sellers are taking the connector [a portable, plug-in charger], but the electrical setup stays with the property," says Wendy Gladson, a real estate consultant at Compass in Marina del Ray, CA.
Personal property that will definitely leave on moving day includes items like potted plants, sheds that lay freely on the ground, or any item that can be moved without being disassembled, according to Olhausen.
Everything is negotiable
You may really want that coat and shoe organization unit that fits perfectly in the entry hall or maybe that beer fridge in the man cave. So remember, there is wiggle room when it comes to what stays and what goes in a home sale.
However, the local housing market may dictate how far you get when you try to negotiate. In a cooler market, buyers have more leverage when asking for items. But you might not get the extras you want in a hot seller's market.
If you're still confused, don't worry—you're not on your own trying to figure out what stays or goes. Your buyer's agent will know what fixture exclusions are explicitly stated in the multiple listing service, and will also help you negotiate for items you want.
"Just do not assume anything," says Suzi Dailey an agent with Realty ONE Luxe, in Laguna Niguel, CA. "If you want something, it should be written into the contract."
Source: Realtor.com, Lisa Marie Conklin
Sure, being healthy in the kitchen means selecting nourishing foods, cooking balanced meals, and washing your hands and surfaces again and again (we all recently got a crash course on the importance of that last part). They're all key daily moves, but there are ways you can actually engineer health and safety right into the design of your kitchen. From refrigerators and freezers that preserve the nutrients in what you pick up at the farmer's market to countertop surfaces, fixtures, and even walls that cut down on bacteria, the right elements can pick up where your food choices leave off. Browse them all below, and cheers to your health.
1. French Three-Door Stainless Steel Refrigerator
For most of us, a counter-depth refrigerator gives that built-in look without a full gut renovation. But buying a fridge isn't just about looking good and keeping your food cool: It's also about preserving your groceries so when you make that salad, the lettuce is still crisp and your veggies are still ripe. Beko's EverFresh+ technology keeps produce fresh up to 30 days so you get all those  good-for-you vitamins and nutrients out of your next trip to the farmer's market.
2. Silgranit Sinks
Generally speaking, your hardworking sink is—sad to say—one of the least hygienic places in your whole kitchen. Stainless steel sinks are a popular option that have been in kitchens for over a century, but they can be prone to scratches and abrasions over time. For an alternative option, consider one made of a hard, smooth, and long-lasting material like these engineered stone sinks from Blanco. On top of hugely reducing bacteria growth, they're just gorgeous and come in a range of colors.
3. SuperPaint Interior Latex
There are more ways to healthy up your kitchen than just installing gleaming, techy appliances. With paints from this sanitizing line from Sherwin-Williams, even your walls can help keep things clean and safe. On top of killing over 90 percent of the E. coli, MRSA, Staph, and other bacteria that lands on it, it comes in all the amazing colors you'd expect from Sherwin-Williams—no style concessions here! If air purification is more your thing than sanitization, the brand also has a paint for that too.
4. Tall Tub WiFi Connected Carbon Fiber Dishwasher
Now more than ever, you want to know that what you eat and drink from has been properly cleaned. And a lot of that comes down to the dishwasher you choose. The AquaIntense technology Beko has packed into this one uses an intense water pressure to break up food particles to provide five times better cleaning. You'd think with all this pressure inside, the noise outside would be an issue, but the dishwasher is only 39db — quiet enough you might forget it's on. By the way, it can handle 16 place settings at once, so go ahead and plan that dinner party.
5. Sleek Chrome Smart Faucet
Cleaning your hands is a huge part of kitchen hygiene, but doesn't that mean your faucet and knobs are getting covered in whatever you're washing off your mitts? Not if you can wave your germy, chicken-drenched hands over the sensor of this smart faucet for a blast of hot water without needing to touch a thing. You can also set the faucet up so it will automatically run for the right amount of time to get your hands clean (no more counting off in your head) and will automatically shut off if it's been running too long—a nice note for water conservation too! Also, it's a sleek upgrade to your space. (If this one isn't to your taste, Moen has plenty more.)
6. Quartz Countertop
Bottom line: You need to know your prep surface isn't harboring any germs in its tiny, almost invisible nooks and crannies. Just like a sink, a porous countertop can be a playground for bacteria, no matter how much bleach you use. Caesarstone's recycled quartz material is both durable and non-toxic, it doesn't require sealants or wax, and it's entirely non-porous. Oh, and it's environmentally friendly too (made with recycled and sustainably sourced quartz) and comes in a fantastic selection of styles and colors.
7. Stainless Steel Upright Freezer
Aside from being a gorgeous freezer for your home, this might be the nicest one out there for garages. It's able to handle extreme temperature fluctuations from sweltering summers to frigid winters. For most of us, the bonus of having a standalone freezer is really about being able to buy either in bulk or freeze seasonal produce for when it's no longer in season. This freezer's frost-free technology, coupled with its quick freeze, means your food will still have all those essential vitamins and nutrients when it's finally time to eat your bounty.